Fried mac and cheese balls
Mac and cheese fried? Oh yeah.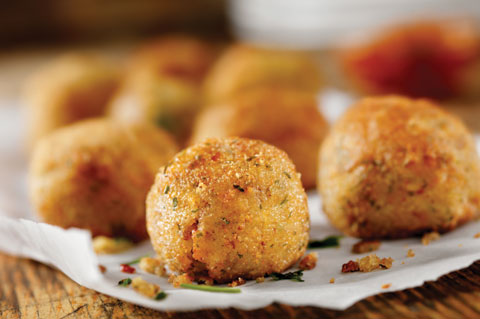 Fried mac and cheese balls are crispy and then served with a spicy marinara sauce.
Fried mac and cheese balls
Serves 8
Ingredients:
4 cups leftover (cold) macaroni and cheese
2 cups breadcrumbs
1/2 teaspoon cayenne pepper
1/2 teaspoon chili powder
1/2 teaspoon black pepper
3 eggs
1/4 cup milk
Vegetable or peanut oil, for frying
Directions:
Using a large cookie scoop or a smaller ice cream scoop, scoop macaroni mixture into balls.
Place on a parchment paper-lined cookie sheet and place in the freezer for 30 minutes.
Combine breadcrumbs, cayenne pepper, chili powder and black pepper together in a pie dish and set aside. In a separate pie dish, beat eggs and milk together.
Heat your oil in a large pot or deep fryer to 350 degrees F.
Remove the cheese balls from the freezer and roll first through the egg mixture, then through the breadcrumb mixture. Tap off any excess mixture and then gently drop into the hot oil using a slotted spoon.
Allow the cheese balls to fry in small batches, about 5 minutes. Drain on a paper towel-lined plate and enjoy!
More mac and cheese recipes to try
Four cheese mac and cheese recipe
Crawfish mac and cheese
Roasted poblano mac and cheese