Peanut butter, jelly & marshmallow fluff bars
Ever wondered what it would taste like if you mixed your favorite fluffernutter sandwich with a PB & J and a bowl of Cap'n Crunch? Well, we did too, which is why we mixed all three flavors into one gooey, chewy, decadent dessert bar.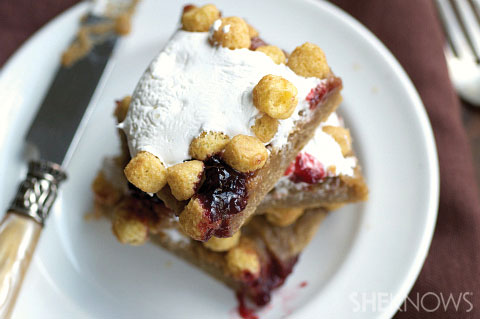 These crunchy, creamy, gooey bars are the perfect dessert, after-school snack or post-lunch indulgence for anyone. The mix of old-timey favorites, like peanut butter and jelly and fluffernutter, will make you feel like you're a kid again, which is something we all need once in a while.
Peanut butter, jelly & marshmallow fluff bars
Yields 12 bars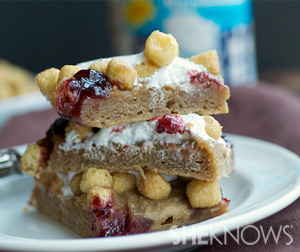 Ingredients:
1/4 cup unsweetened applesauce
1 egg
1/2 cup creamy peanut butter
3/4 cup brown sugar
1/4 cup white sugar
3/4 cup all-purpose flour (can sub in whole wheat)
1 teaspoon vanilla
1/4 cup raspberry jam
About 1/2 cup marshmallow fluff
1/2 cup peanut butter Cap'n Crunch
Directions:
Preheat oven to 350 degrees F. Line an 8 x 8-inch baking dish with foil and spray with nonstick cooking spray.
In a large bowl, whisk the applesauce, egg, peanut butter, sugars and vanilla together. Mix until fully combined. Stir in the flour until just mixed (not over mixed).
Spread the mixture into the foil. Top with cereal. Using a teaspoon measurer, place the raspberry jam all over the tops of the cereal. Spoon marshmallow fluff in the other spots (where there isn't jam).
Bake for about 18 minutes or until slightly gooey in the center. Let cool for about 5 minutes and then cut into bars.
More peanut butter and jelly recipes
Creamy peanut butter and jelly ice cream
Crunchy peanut butter and jelly thumbprints
Peanut butter and jam scones