Dinner Shortcuts: Ham and cheese cornbread bake
Talk about layers of flavor! This cornbread is packed with ham and lots of cheese.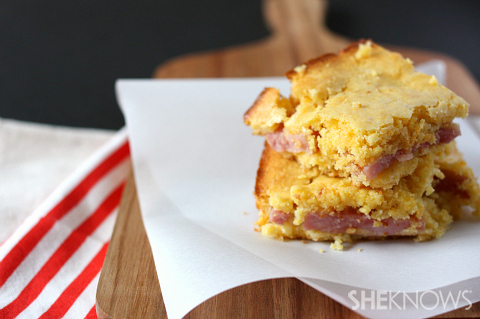 This is one simple country dinner. Simply whip up some cornbread and pair it with smoked ham. If you want to make your cornbread bake even cheesier, make sure to add a little more cheese on top of your ham.
You're going to love this dish!
Ham and cheese cornbread bake
Yields contents of 8 x 8-inch dish
Ingredients:
1 box cornbread mix
1/2 cup shredded cheddar cheese
1 thin sliced ham steak
Directions:
Preheat oven to 400 degrees F and spray an 8 x 8-inch dish with nonstick spray, set aside.
Make mix according to box directions and then stir in cheese.
Add half the mixture to the prepared pan and top with ham. Cut the ham into any shape that will properly cover the cornbread.
Top ham with remaining cornbread batter.
Bake for about 25 to 30 minutes until browned around the edges and fully cooked.
More cornbread recipes
Cornbread stuffing recipe
Apple cinnamon cornbread recipe
Gluten-free jalapeño cheddar cornbread recipe