Dinner Shortcuts: Pita pocket breakfast sandwich
Breakfast time is the perfect time to grab and go. This dish is so delicious you can eat it in the morning and at night.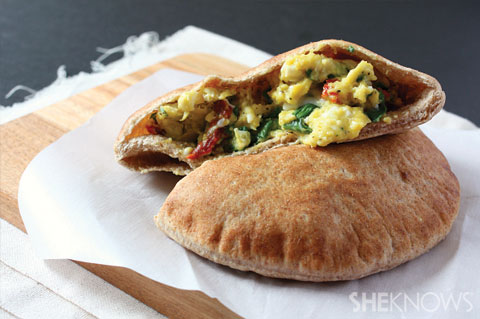 We all know breakfast is the most important meal of the day. Too bad most mornings involve running around and sometimes skipping breakfast. This simple scrambled egg stuffed pita is the perfect simple breakfast. Plus you can easily eat it on the go.
Pita pocket breakfast sandwich
Yields 2 half pita pockets
Ingredients:
2 tablespoons butter
6 large eggs, scrambled
Salt and pepper, to taste
1/4 cup chopped sun-dried tomatoes
2 handfuls spinach
1/3 cup shredded sharp cheddar cheese
1 pita pocket, cut in half
Directions:
Add butter to a large skillet and melt.
Add in eggs and season with salt and pepper. Mix around until the eggs just start to scramble.
Stir in sun-dried tomatoes, spinach and cheese.
Cook until eggs are set, spinach is wilted and cheese is melted.
Add half the mixture to each half of the pita pocket.
More egg recipes
Eggs Benedict casserole recipe
Baked eggs with sweet potatoes recipe
Avocado and egg breakfast pizza recipe