Chicken and waffle ice cream
Even if you've never been to the South, you can't deny that chicken and waffles make the perfect brunch. The saltiness of the chicken with the sweetness of the waffles and syrup make the perfect bite. This is precisely why we decided to turn our favorite hangover breakfast into a sweet dessert!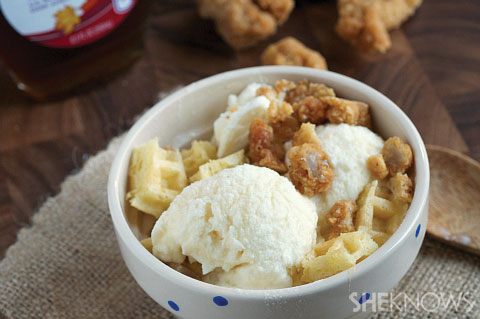 Each bowl of this dessert has everything you crave: salty bites of fried chicken, sweetness of maple syrup and a slight crunch from the crispy waffles. For even more added sweetness, top each scoop with a drizzle of fresh maple syrup. Sweet, salty and crunchy, what else could you want in an ice cream?
Chicken and waffle ice cream
Serves about 6
Ingredients:
1-1/2 cups heavy cream
3/4 cup low-fat milk
1 teaspoon vanilla
1/2 cup white sugar
2 tablespoons maple syrup
3 waffles, cooked and crispy
1 cup fried chicken bites

 (like popcorn chicken)
Directions:
Whisk the cream, milk, vanilla, sugar and maple syrup together in a large bowl until sugar is dissolved, about 2 minutes. Top mixture with foil and chill for at least an hour.
Pour mixture into the freezer basin of an ice cream maker. Churn until thick, about 20 minutes.
Chop waffles into bite-size pieces. Mix the waffles and chicken bites into the ice cream and serve with a drizzle of maple syrup.
More fun ice cream flavors
Fresh coconut, lemon and lime ice cream
Craziest ice cream flavors
Vegan cherry chocolate ice cream