Greek yogurt French toast
For breakfast, I decided to switch it up and make French toast that's drizzled with a mixture of Greek yogurt, cinnamon and maple syrup. This breakfast recipe works with many types of bread, but I prefer using the warm flavor of cinnamon bread. It's perfect for your Sunday morning!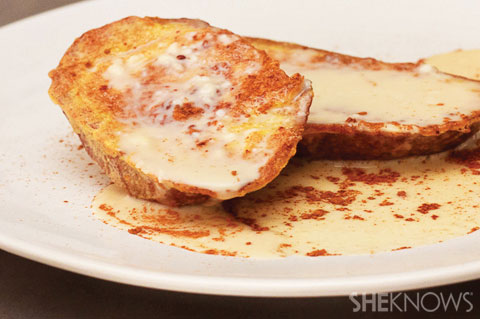 For dessert and healthy appetizers, there are a few ways to enjoy tasty Greek yogurt, especially for breakfast. This French toast recipe is so good, you'll eat too fast and will be asking for more!
Greek yogurt French toast
Yields 1 to 2 servings
Ingredients:
Cooking spray
1 egg
2 slices cinnamon bread
2 ounces Greek yogurt
1 teaspoon cinnamon
2 tablespoons maple syrup, or to taste
Directions:
Heat pan to medium-high heat and lightly spray with cooking spray. Scramble an egg and dip bread slices coating both sides. Place slices on the pan and cook each side until golden brown.
Mix the yogurt with cinnamon and maple syrup.
Place toast slices on a plate and drizzle the yogurt mixture on top. Sprinkle cinnamon on top.
More French toast recipes
Vegan French toast recipe
Whole-wheat French toast sticks and fruit dipping sauce
Stuffed French toast with strawberries recipe