Island flavored stuffed French toast
Brunch this weekend will be the talk of your town!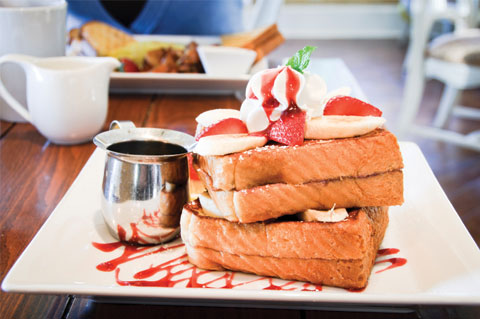 French toast is stuffed with bananas and coconut, crisp on the outside and oozing with flavor on the inside, a tropical flavored delight!
Island flavored stuffed French toast
Serves 4
Ingredients:
1 (8 ounce) package softened low-fat/reduced-fat cream cheese
2 tablespoons powdered sugar
Zest from 1 lemon
1 teaspoon vanilla
1 teaspoon freshly squeezed lemon juice
2 bananas, sliced
1/2 cup shredded coconut
8 slices good bread
1 cup milk
1 egg
1 teaspoon vanilla
1 teaspoon almond extract
2 tablespoons butter (more may be needed)
Extra banana slices and powdered sugar for garnish
Syrup
Directions:
In a small bowl, mix together cream cheese, powdered sugar, lemon zest, vanilla and lemon juice.
Preheat griddle or skillet to 350 degrees F.
Spread softened "cheesecake" mixture on 2 slices of bread.
Place bananas and coconut into the cream cheese mixture, and then press together to make a sandwich.
In a pie dish, beat 1 cup milk, 1 egg, vanilla and almond extract together.
Dip the "sandwich" into the egg wash, just as you would to make French toast.
Place a 1/2 tablespoon of butter into skillet or onto griddle, and then add the stuffed sandwich. Cook on both sides until crispy.
Remove and place on plate. Top with more sliced bananas and sifted powdered sugar, and then top with shredded coconut and warm syrup.
More French toast recipes
French toast with warm apples and cinnamon crumble
Stuffed French toast with strawberries
French toast casserole