Homemade Coca-Cola milkshakes
Want to surprise your kids with a diner-inspired dessert this summer? Forget the cobblers or the pies and give them a few jars of these Coca-Cola milkshakes!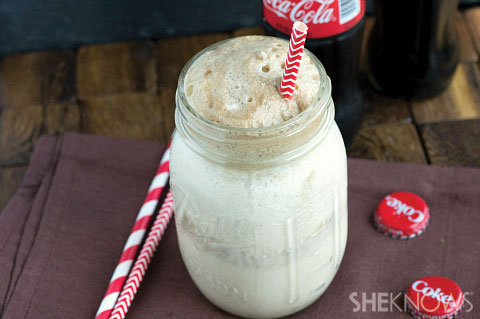 These shakes only require four ingredients, making them too easy not to make! We love the fizzy, frothy effect you get when mixing the ice cream with the Coke, giving these shakes a bubbly, delicious taste. For added creaminess, top each shake with whipped cream.
Coca-Cola milkshakes
Serves 2
Ingredients:
2-1/2 cups Coca-Cola
3-1/2 cups vanilla ice cream
1/2 cup whipped cream
1/2 cup milk
Directions:
Place 2 cups of Coke, vanilla ice cream, whipped cream and 1/2 cup milk in a blender and pulse until smooth and creamy.
Pour into jars and top each shake with remaining 1/2 cup Coke (to get a frothy fizziness).
More diner-inspired recipes
3 Classic diner breakfast recipes
Open-face tuna melts
Diner-inspired cupcakes recipe