Chocolate and fruit egg rolls
Who said egg rolls had to be savory? Forget the cabbage, pork and onions and stuff those egg roll wrappers with sweet fruits like strawberries, chocolate and sugar!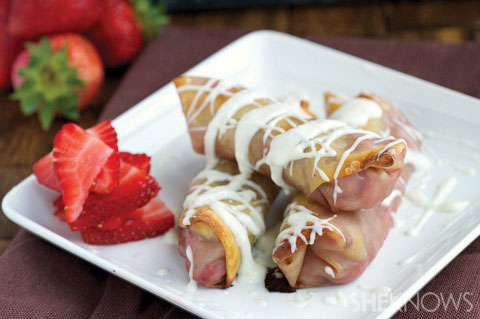 These baked desserts are a fun twist on a normal, fruity sweet for summer and your kids will love that they can eat them with their hands! To save some calories, we baked ours instead of frying them! But don't worry — the rolls are just as crispy and crunchy as they would be if you fried them!
Chocolate and fruit egg rolls
Yields 6 rolls
Ingredients:
6 egg roll wrappers
About 1/2 cup chopped strawberries
3-1/2 tablespoons white chocolate chips
3 teaspoons vanilla bean sugar
1/3 cup white chocolate chips
1 tablespoon canola oil
Cooking spray
Directions:
Preheat oven to 375 degrees F. Grease a baking sheet with nonstick cooking spray and set aside.
Turn the egg roll wrappers sideways (so they make a diamond shape). Place 1 tablespoon of strawberries in the middle of the diamond and top with 1 teaspoon of white chocolate chips. Sprinkle with vanilla bean sugar (about 1/2 teaspoon).
To assemble, roll 1 side of the roll up and fold over the filling. Then tuck both of the sides up (toward the filling) and then tightly wrap the rest of the egg roll up. Place the egg rolls flap side down on the baking sheet.
Bake egg rolls for about 20 minutes, or until crispy and golden brown. While egg rolls cool, melt chocolate chips and oil. Once melted, drizzle the egg rolls with white chocolate and serve!
More unique dessert recipes
Sweet corn desserts
Savory herbs in sweet desserts
Strawberry cheesecake dessert pizza