3 Kid-friendly sushi recipes
Can't get your kids to branch out with what they eat? Inspire them to eat sushi by whipping up one of these fun recipes! In fact, they are so tasty, your kids will be asking for sushi every day!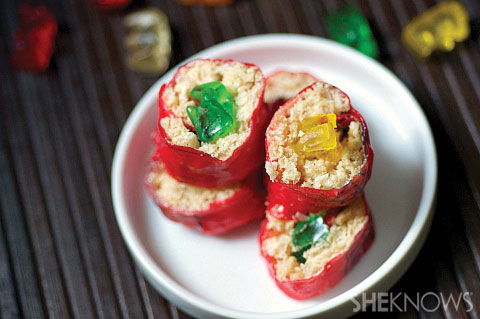 If you can't get your kids to eat regular sushi, start them off with a batch of candy sushi to get them used to the idea! If you're worried about feeding your kids raw fish, omit it from the tuna rolls and sub in extra veggies!
Candy sushi rolls
Yields about 8 rolls
Ingredients:
2 tablespoons unsalted butter
24 marshmallows
6 cups Rice Krispies cereal
8 fruit roll-ups
16 gummy bears
Directions:
Heat the butter in a saucepan over medium heat. Add marshmallows and heat until melted. Pour the Rice Krispies into a large bowl and pour the marshmallows over the Rice Krispies. Mix it with your hands and press into a greased baking sheet.
Roll out each fruit roll-up. Place 1/4 of the mixture onto each roll and spread towards 1 side (so you can easily roll it up). Chop the gummy worms and fish into bite-size pieces.
Place the chopped gummy candies into the center and spread out cereal mix. Carefully wrap the candy up, making sure the gummy candy stays in the center so the rolls end up looking like sushi rolls.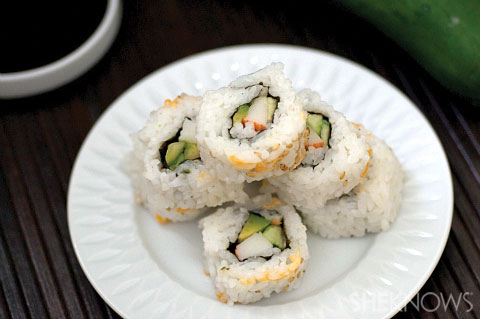 California sushi rolls
Yields 8 rolls
Ingredients:
1/4 cup rice wine vinegar
1 cup water
Salt and pepper to taste
1 cup uncooked sushi rice
1 tablespoon sugar
1/2 cup imitation crab meat, finely chopped
1/4 cup mayonnaise
8 sheets nori (dry seaweed)
2-1/2 tablespoons white sesame seeds
1 cucumber, cut into thin spears
2 avocados, diced into long spears
Directions:
Bring water to a boil and add rice. Boil rice and then reduce heat to low. Simmer for about 15 minutes, or until rice is fully cooked.
Whisk the vinegar and sugar together until sugar dissolves. Add it to the rice and mix to combine. At this point, the rice should be sticky.
Mix the crab and mayonnaise together.
To roll out the sushi, cover a rolling mat with nonstick plastic wrap. To roll the sushi, cover a bamboo rolling mat with plastic wrap. Lay a sheet of nori, shiny side down, on the plastic wrap.
Carefully press the rice down onto the nori in an even layer, leaving a thick border around the edge.
Place 2 long cucumber spears, 2 slices of avocado and a small spoonful of crab about a 1/2 inch from the border. Using the bamboo rolling sheet, fold the bottom of the edges up and roll into a tight cylinder.
Using a very sharp knife, cut into 1-inch slices. Serve with soy sauce.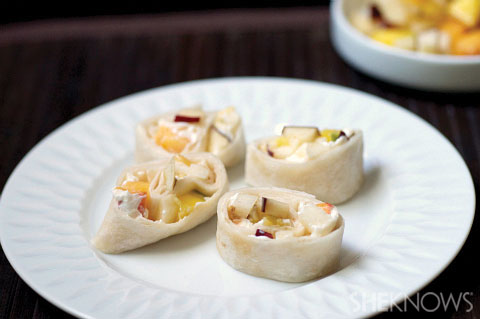 Fruit sushi roll-ups
Yields about 6 rolls
Ingredients:
3 tortilla rolls
1 cup mango, cut into pieces
1 apple, cut into pieces
1 peach, cut into pieces
6 tablespoons cream cheese
3 tablespoons powdered sugar
1 teaspoon vanilla extract
Directions:
Mix the cream cheese, powdered sugar and vanilla with a hand mixer until fluffy.
Spread cream cheese over the tortilla rolls.
Line 1 side of the tortillas with chopped fruit.
Starting at the side that doesn't have any fruit, roll it up so it's tight.
More kid-friendly recipes
Kid-friendly recipes from A to Z
Kid-friendly salad recipes
8 Recipes you can make with the kids