Lemon raspberry Eton Mess
Lemon raspberry Eton Mess is all things creamy, crispy, tangy and sweet rolled into one messy and delightful glass. Lemon-scented meringues are folded into whipped cream and layered with fresh raspberries and raspberry preserves for a perfect dessert!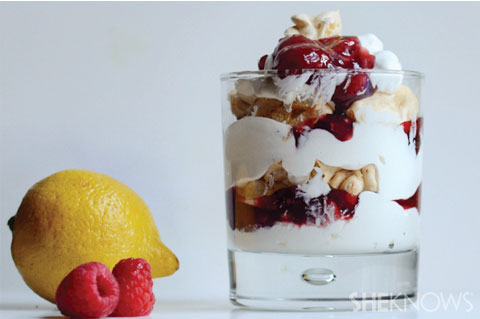 Lemon raspberry Eton Mess
Makes 4-6 servings
Ingredients:
3 room-temperature egg whites
1/4 teaspoon cream of tartar
1/8 teaspoon salt
1/2 cup fine sugar
Zest from 2 lemons
2 pints fresh raspberries
1 cup raspberry jam
3 cups prepared whipped cream
Directions:
First the meringues will need to be made. Heat an oven to 225 degrees F and line a large baking sheet with parchment paper.
In the bowl of a stand mixer, beat the egg whites, cream of tartar and salt together at medium speed until soft peaks form.
With the stand mixer on high, gradually pour in the sugar until all of the sugar is used, and the meringue is glossy with stiff peaks.
Fold in the lemon zest.
Spoon the meringue onto the prepared baking sheet by the tablespoonful. They can be fairly close together because they will not spread.
Bake at 225 degrees F for 60 minutes, rotating the sheet pan halfway through.
When the 60 minutes are up, turn off the oven and let the meringues sit in there for another 2 hours to dry out, or overnight.
When it is time to make dessert, stir together the raspberries and raspberry jam.
Crumble the meringue cookies into the whipped cream and gently fold together.
Layer, alternating the jam mixture and the whipped cream mixture, in glasses.
Serve immediately.
More fantastic raspberry desserts
Raspberry cheesecake swirl brownies
Brownie heart sandwiches with raspberry buttercream
Vegan chocolate raspberry cupcakes