Lemon thyme pound cake with lemon glaze
Lemon and thyme pound cake with lemon glaze brings a lot of flavor and sophistication to the standard pound cake. Fresh lemon glaze and a few thyme leaves on top are sure to impress your family!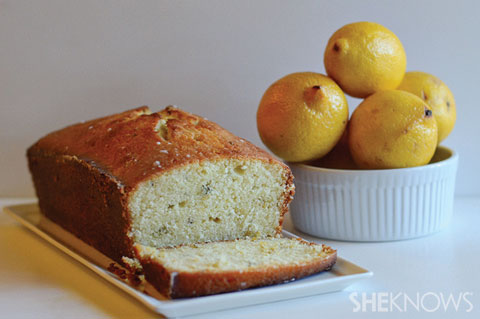 Lemon thyme pound cake with lemon glaze
Makes 1 (8 x 4-inch) pound cake
Ingredients:
1 cup butter, softened
1 cup granulated sugar
4 whole eggs, at room temperature
1 tablespoon vanilla extract
1/4 cup fresh lemon juice, plus 2 tablespoons
Zest from 2 lemons
2 tablespoons fresh chopped thyme leaves
1-1/2 cups all-purpose flour
1 teaspoon baking powder
1 cup powdered sugar, sifted
Directions:
Preheat oven to 350 degrees F.
Butter and flour an 8 x 4-inch loaf pan and set aside.
In a large stand mixer bowl, cream together the butter and sugar until light and fluffy, scraping down the sides as needed.
Add the eggs 1 at a time until each egg is well incorporated into the batter.
Add the vanilla, 1/4 cup of lemon juice, lemon zest and thyme until all ingredients are incorporated.
Sift the flour, baking powder and salt together and add to the wet ingredients.
Mix until just incorporated.
Pour the batter into the prepared loaf pan.
Bake at 350 degrees F for 60-70 minutes until a toothpick inserted into the middle comes out clean.
In the last 5 minutes of baking, whisk together the remaining lemon juice and the powdered sugar to make the glaze.
When the cake is done baking, remove from the oven. Poke a few holes in the top with a toothpick, and then drizzle the glaze on top.
Let cool completely in the pan.
Serve at room temperature.
More amazing pound cake recipes
Peach pound cake
Peekaboo pumpkin pound cake
Vegan orange pound cake