Grilled pizza
Grilled pizza with fresh tomatoes and mozzarella is the perfect appetizer, dinner or snack all rolled into one. Make sure to top with garlic oil and arugula for extra flavor and pizzazz!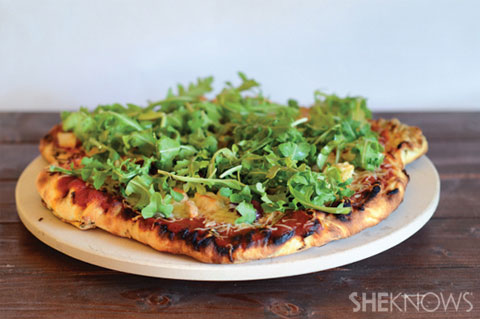 Grilled pizza
Makes 2 large pizzas
Ingredients:
1 pound prepared pizza dough, divided in half
4 tablespoons olive oil
2/3 cup marinara sauce
2 cups mozzarella cheese
Toppings of choice: pepperoni, chicken, sausage, mushrooms, peppers, onions, etc.
2 cups fresh baby arugula (optional)
Garlic-infused olive oil (optional)
Directions:
Heat a grill over high heat for about 8 minutes until very hot.
While the grill is heating, roll out the dough into 2 large round pizzas and then place on 2 large sheet pans covered with parchment paper.
Carry all pizza ingredients out to the grill.
Before placing the pizza dough on the hot grill, brush 1 side with olive oil.
Place oil-side down on the hot grill for about 90 seconds, until grill marks form and the pizza can be easily removed using tongs.
While the first side is cooking, brush the second side with olive oil.
Flip the pizza dough carefully over and place the 1/3 cup of marinara sauce, 1 cup of mozzarella cheese and desired toppings on the pizza.
Cover the grill and allow to cook for about 3-4 minutes, checking occasionally to see if the pizza is done.
Once done, remove carefully to the original sheet pans.
Cover with arugula and drizzle with garlic-infused olive oil if desired.
Serve hot.
More amazing pizza recipes
Grilled veggie pizza
Grilled chipotle shrimp and red pepper pizza
Grilled steak and arugula pizza