Cookie dough fudge
We all love cookie dough, but what about taking that flavor and putting it into a fudge? This is one dessert that everyone will go crazy for!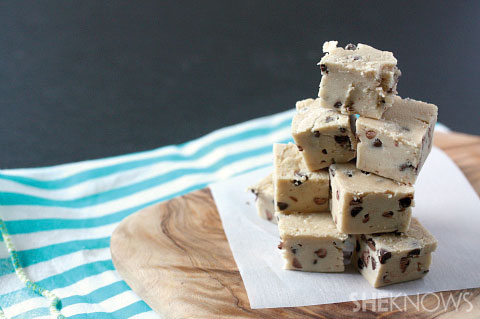 We all know how amazing cookie dough tastes. With this recipe, we can enjoy it without worrying about eating raw egg. You're going to love how simple and easy this fudge is to put together. Plus it tastes amazing. Who doesn't love cookie dough?
Cookie dough fudge
Source: The Cookie Dough Lover's Cookbook
Yields 1 (9 x 9-inch) pan
Ingredients:
For cookie dough:
1/2 cup unsalted butter, room temperature
1/4 cup sugar
1/4 cup brown sugar
1/2 teaspoon vanilla bean paste
Pinch of kosher salt
2 tablespoons half and half
1/2 cup all-purpose flour
For fudge:
1/3 cup brown sugar
1/3 cup butter
Pinch of kosher salt
1/3 cup half and half
4 cups powdered sugar
1 teaspoon vanilla bean paste
1/2 cup mini-chocolate chips
Directions:
Prepare a 9 x 9-inch dish by lining it with a piece of parchment paper, set aside.
For cookie dough:
In a bowl of an electric mixer, add butter, sugar and brown sugar. Beat for about 3 minutes until fluffy.
Add in vanilla bean paste, salt and half and half.
Mix in flour until just combined. Set aside.
For fudge:
In a medium-sized saucepan, add brown sugar, butter, salt and half and half. Cook over low heat until the sugar is dissolved.
Take off the heat and stir in powdered sugar 1 cup at a time.
Once incorporated, add vanilla bean paste and cookie dough base. At this point, the mixture should be room temperature.
Stir in chocolate chips and spread into prepared pan. Add to the refrigerator and let harden. Store in the fridge and keep cool. If you try to store the fudge at room temperature it will be too soft.
More fudge recipes
Christmas-beer fudge recipe
Irish coffee cream fudge recipe
Potato chip and salted caramel fudge recipe