Toffee marshmallow whip cheesecake
Looking for just the right dessert? Want to impress a crowd? This simple, fluffy marshmallow cheesecake is whipped together and sprinkled with toffee. Kids and adults will both go crazy for a piece of this!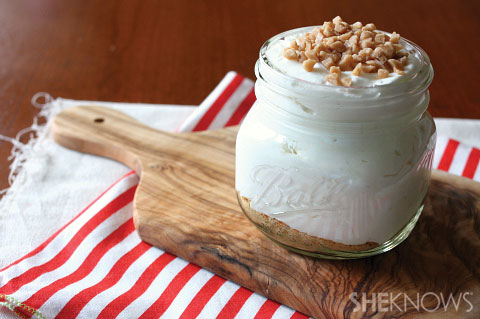 Love cheesecake? Hate all the work that goes into making a homemade cheesecake? Although the results are always delicious, it's very time consuming. This simple whipped marshmallow cheesecake will blow your mind. In less than 30 minutes, you will have the most decadent whipped cheesecake treat ever. Plus it's no-bake, so there is no need to heat your house up by turning on the oven. For good measure, we sprinkled ours with toffee bits. That takes this treat totally over the top!
Toffee marshmallow whip cheesecake recipe
Source: Peacock Coffeehouse
Yields contents of 9 x 13-inch dish
Ingredients:
12 tablespoons unsalted butter
3 cup graham cracker crumbs
1/4 cup sugar
40 large marshmallows
3/4 cup whole milk
2 (8 ounce) packages cream cheese, room temperature
1 (12 ounce) container thawed whipped topping (Cool Whip)
Directions:
In a large bowl, melt butter in the microwave. Add in graham cracker crumbs and sugar. Mix to combine and press into a 9 x 13-inch dish.
In a skillet over low heat, add marshmallows and whole milk. Cook on low until the marshmallows have melted into the milk mixture. Take off the heat.
In the bowl of an electric mixer, add cream cheese and beat until smooth. Pour in marshmallow/milk mixture. Beat until smooth and combined.
Fold in whipped topping and spread into graham cracker crust-lined dish. Sprinkle the top with toffee bits or any other desired toppings.
Add to the refrigerator and let sit until cold, at least 1 hour.
More cheesecake recipes
Fried cheesecake burrito recipe
Red, white and blue no-bake cheesecake bites
Chocolate peanut butter cup cheesecake parfait recipe