Baked banana chocolate chip donuts
Tired of boring banana bread? This simple baked donut will help you use up old bananas without keeping your menu boring. Just bake and enjoy!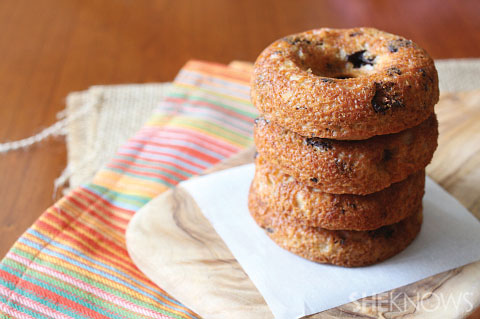 Donuts are delicious but the calories can add up quickly. These baked banana donuts are sweet on flavor, and since they are baked, they have fewer calories than their fried cousins. We also added some sweet cinnamon and dark chocolate chunks to the donuts to create the perfect breakfast or dessert treat.
Baked banana chocolate chip donuts
Yields 12 donuts
Ingredients:
1-1/4 cups all-purpose flour
2 teaspoons baking powder
1/2 teaspoon kosher salt
1/2 teaspoon ground cinnamon
3/4 cup sugar
2 large eggs
3 bananas, mashed
2 teaspoons vanilla bean paste
1/2 cup vegetable oil
1/2 cup dark chocolate chips
Directions:
Preheat oven to 350 degrees F and spray 2 (6-count) donut pans with nonstick spray. Set aside.
In a large bowl, whisk together flour, baking powder, salt and cinnamon.
In a medium-sized bowl, mix together sugar, eggs, bananas, vanilla bean paste and vegetable oil. Stir until combined.
Add wet ingredients to dry and stir to combine. Fold in dark chocolate chips.
Fill donut pans 3/4 full and bake for about 15 minutes until a toothpick inserted in the middle comes out clean.
More donut recipes
Frozen banana bites recipe
Frozen peanut butter ice cream recipe
Banana salted caramel cream dessert recipe