Dinner Shortcuts: Pesto chicken panini
Use up that rotisserie chicken! A simple sandwich with bold flavor brought from pesto and stringy mozzarella cheese.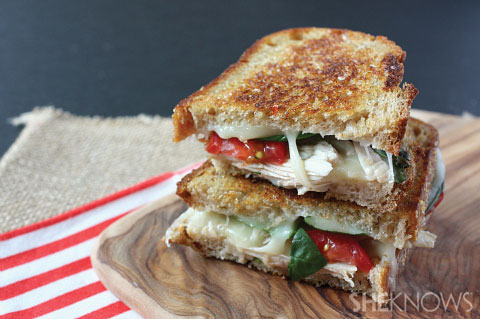 The after-work dinner rush doesn't always have to end in a meltdown. This simple sandwich is packed full of flavor and perfect for adults and kids. We took shredded chicken, pesto, fresh basil, sliced tomatoes and stringy mozzarella to create the perfect panini for a quick weeknight supper.
Pesto chicken panini recipes
Yields 2 sandwiches
Ingredients:
1 tablespoon butter
2 slices crust sliced bread
1 tablespoon pesto
2 slices mozzarella cheese
1/3 cup shredded chicken, use leftover pieces or from a rotisserie chicken
2 slices tomato
Directions:
Set panini maker onto medium heat.
Spread 1 side of each slice of bread with butter.
On the other side of the bread, spread pesto.
Add 1 slice of cheese on top of pesto. Then add shredded chicken, tomato slices and a few slices of basil. Put sandwich together and add to panini maker.
Cook until the outside of the bread is toasted and the cheese is melted. It's ready when the sandwich is warmed through.
More sandwich recipes
Sweet potato burger recipe
Hawaiian grilled cheese recipe
White pizza grilled cheese recipe