Dinner Shortcuts: Chicken and biscuit casserole
A simple casserole that can be made the night before and popped in the oven the next evening. Talk about simple.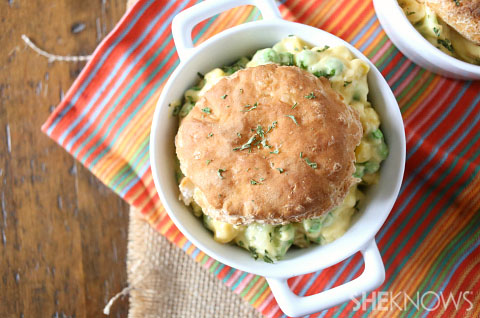 Nothing is easier than a quick potpie recipe. You're going to love how easy this dish is to throw together. It's creamy, full of flavor and packed full of frozen vegetables. Don't worry if you're not a fan of a vegetable in the recipe. Simply swap it out and throw in something you love.
Chicken and biscuit casserole
Yields 9 x 9-inch dish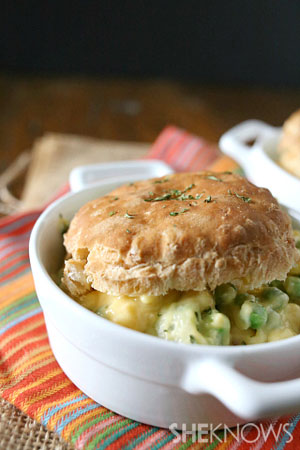 Ingredients:
1 can cream of chicken soup
1/2 cup shredded cheddar cheese
1/2 cup sour cream
1/3 cup whole milk
1/2 cup frozen corn
1/2 cup frozen baby peas
1/2 cup frozen diced carrots
1/4 cup frozen diced onions
1/4 cup frozen diced peppers
1 cup diced cooked chicken
1 can (8-10 count) refrigerated biscuits
Directions:
Preheat oven to 400 degrees F.
In a medium-sized mixing bowl whisk together cream of chicken soup, cheddar cheese, sour cream and milk.
Once smooth stir in corn, peas, carrots, onions, peppers and chicken.
Pour mixture into a 9 x 9-inch casserole dish and bake for 20 minutes until heated through and bubbling.
Open the biscuits and place on top of the pot pie mixture. Bake for another 15 to 20 minutes until browned and fully cooked.
Note: You can also add the potpie mixture to small single serving dishes (like in the pictures) and place a biscuit on the top.
More Dinner Shortcuts recipes
Greek meatball sliders recipe
Italian sub crescent roll-ups recipe
Chicken and rice casserole recipe