Green beans with bacon vinaigrette
In my opinion, a side dish is just as important as the entree and should be flavorful enough to stand on its own. I'm always up for trying something new when it comes to green beans because they're healthy and versatile. With the addition of a bacon vinaigrette, these green beans are turned up a few notches. And really, what doesn't taste good with bacon?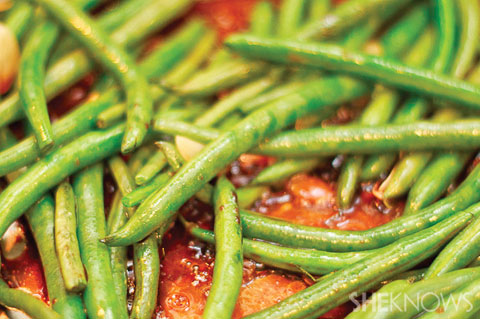 Just a few simple ingredients can elevate this vegetable to greatness. Colorful and delicious, this recipe for green beans is a yummy way to kick up any dish. Add it as a side with roast chicken or grilled steak.
Green beans with bacon vinaigrette
Yields 4 servings
Ingredients:
1 pound green beans
1-2 slices bacon, chopped
1-2 teaspoons vegetable oil
1 small shallot, thinly sliced
1 tablespoon extra virgin olive oil
1 teaspoon red wine vinegar
Salt and pepper, to taste
Directions:
Bring a pot of water to a boil. Add beans and blanch for 3 minutes. Drain and place beans in a bowl of ice water and drain.
Heat a large pan or wok over medium heat. Cook bacon in a large nonstick skillet over medium heat until crisp. Remove and set aside on a plate, leaving the drippings in the pan.
Add vegetable oil to the pan. Add shallots and cook for 3-4 minutes or until tender. To a serving bowl, add shallots with olive oil, vinegar, salt and pepper. Toss the beans around in the same skillet for 2-3 minutes to warm. Place beans in the serving bowl and stir to combine. Toss in crispy bacon and serve.
More appetizer recipes
Toddler approved turkey rolls recipe
Southwest tamale tart recipe
Tropical fruit salsa recipe