Angel food cake French toast
Light angel food cake dipped in a cinnamon batter and fried until perfection. This is one French toast you can eat for dinner! Especially when topped with a fresh fruit sauce.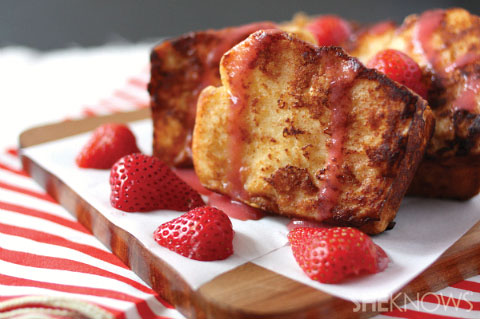 This light and airy French toast is perfect for brunch. Or even dessert. It's lightly soaked in a cinnamon spiced custard and grilled until crispy brown on the edges. We drizzled a fresh strawberry puree over the top but any puree of your favorite fruit would work. This is one French toast that is decadent and delicious!
Angel food cake French toast recipe
Yields 6 servings
Ingredients:
1 cup whole milk
4 large eggs
2 teaspoons vanilla extract
1 tablespoon superfine sugar
2 teaspoons cinnamon
1 angel food cake, cut into 3-inch pieces
Butter
1 cup sliced strawberries, divided
Directions:
In a shallow dish, whisk together milk, eggs, vanilla extract, sugar and cinnamon.
Dip sliced angel food cake into the batter, letting it soak about 15 seconds on each side.
Add 1 tablespoon butter to a skillet over medium heat and let melt. Once melted, add in dipped cake and let cook until browned on 1 side, flip and cook until browned on the other.
Keep warm while you make the fresh fruit puree.
Add 3/4 cup strawberries to a mixer and blend on high until smooth.
Drizzle warmed French toast with strawberries and sauce and serve with remaining whole strawberries.
More French toast recipes
French toast waffles recipe
Challah French toast with apples recipes
Baked brioche French toast with walnuts recipe