Simple pasta with fresh basil
This is the kind of dish that makes you realize that the simplest meals are the greatest. Creating a flavorful and quick dish in under 30 minutes is really easy if you have these two ingredients: pasta and tomato sauce. It's the perfect solution whenever you're pressed for time.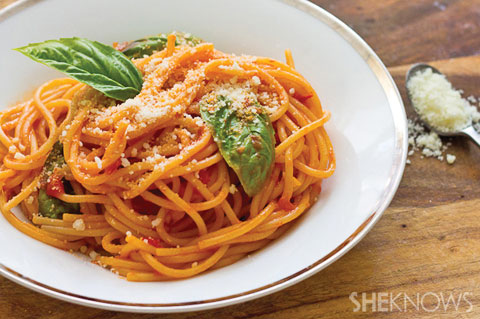 If you need a quick and easy dinner idea, pasta is the way to go! Fresh basil and a sprinkling of Romano cheese is added making the perfect complement. Family and friends are certain to be wowed when you present them with this super simple pasta dish.
Simple pasta with fresh basil
Yields 4 servings
Ingredients:
1 pound spaghetti
2-1/2 cups tomato sauce (homemade or store-bought)
A handful of basil leaves
Extra virgin olive oil
Black pepper
Romano cheese, for sprinkling
Directions:
Cook spaghetti according to package directions.
Heat tomato sauce in a pan on medium heat. Add cooked spaghetti to the tomato sauce and toss until well combined.
Turn the heat off and add the fresh basil leaves and toss. Drizzle olive oil and sprinkle Romano cheese on top.
More pasta recipes
Chicken Caesar pasta salad recipe
Vegan pasta salad recipe
BLT pasta salad recipe