Strawberry peach frozen yogurt
This strawberry peach frozen yogurt recipe takes two of summer's best fruits and turns them into something refreshingly extraordinary! Creamy, light and sure to bring a smile any time of day.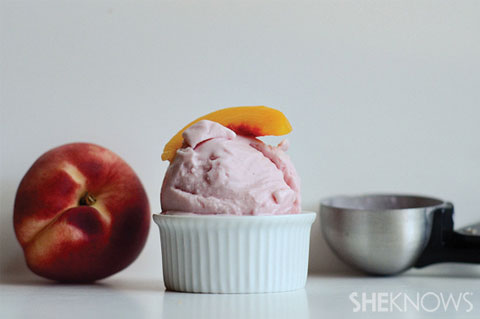 Strawberry peach frozen yogurt
Makes 12 servings
Ingredients:
1 (32 ounce) container vanilla Greek yogurt
1 (13.66 ounce) can coconut milk
1 pint fresh strawberries, washed and hulled
3 medium peaches, peeled, pitted and sliced
3/4 cup powdered sugar
1 teaspoon vanilla extract
Directions:
Place the strawberries, peaches and powdered sugar into a food processor.
Process until the fruit is liquefied and the sugar is dissolved.
Strain the mixture to remove as many strawberry seeds as possible. This step is optional.
Whisk together the yogurt, coconut milk, vanilla and fruit puree until well combined.
Pour into an ice cream maker and churn according to the manufacturer's directions until thick.
Place in a freezer-safe plastic container fitted with a lid. Press a sheet of plastic wrap on top before fitting the lid on.
Freeze for 3-4 hours until solid.
Serve cold.
More refreshingly delicious frozen yogurt recipes
Mocha peanut butter frozen yogurt
5-Spice coconut frozen yogurt
Low-calorie blueberry frozen yogurt