Homemade Nutella toaster pastries
This delicious sweet treat is simple to prepare and ready in less than 30 minutes! All you need is some store-bought puff pastry, an egg and Nutella. What's not to love? Homemade toaster pastries are insanely easy to make and incredibly addictive — everyone will surely love them!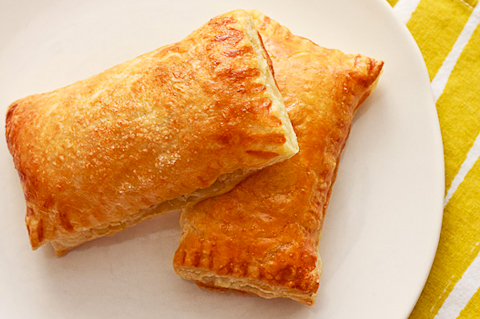 You will never guess how easy it is to make your own version of Pop Tarts. These chocolaty bundles of heaven are a snap to put together and would make the perfect snack or breakfast treat for the kids... and for yourself!
Homemade Nutella toaster pastries
Yields 8 Pop Tarts
Ingredients:
2 Pepperidge Farm puff pastry sheets, thawed
Nutella
1 egg, beaten
Directions:
Preheat oven to 400 degrees F and prepare a baking sheet with parchment paper or a silicone baking mat.
Lightly flour a clean surface and place a pastry sheet on top, and then cut the pastry dough into 8 squares.
On 1 side of the square, spoon about a heaping teaspoon of Nutella, making sure not to go to the edges.
Fold the square in half and seal edges with your fingers. Crimp the edges with a fork to seal the pastries.
Brush the tops of each toaster pastry with the egg wash.
Bake for 15 minutes, or until golden brown. Cool on a wire rack and serve warm.
More snack recipes
Asian style kale chips with spicy dipping sauce recipe
Peanut butter banana bites recipe
Healthy snacking made easy