Creepy Jell-O petri dishes
Who said you couldn't eat your science experiments? These creepy, crawly petri dishes are made from Jell-O and your favorite gummy candies and sprinkles. This is one batch of bacteria you'll want to eat!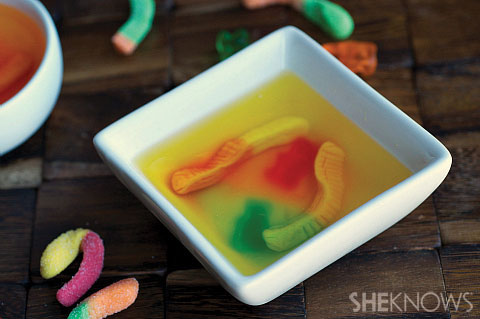 This isn't just a fun edible activity for a rainy day; it's a great in-school science project too! Simply use different flavors of Jell-O to create new and tasty varieties of amoeba and bacteria!
Jell-O petri dishes
Yields about 4 dishes
Ingredients:
3 packs multicolored Jell-O
3 cups boiling water
3 cups cold water
Gummy candies
Directions:
Bring the water to a boil in a large pot. Separate the different colors into 3 bowls. Pour the hot water over each color and let sit for about 2 minutes. Add cold water (1 cup to each flavor) and stir with a whisk to combine.
Pour the colored Jell-O mixes into shallow petri dishes. Add mini gummy worms and bears to each and place in the fridge to cool for at least an hour or until set.
More fun food ideas
Fun with deviled eggs
Super snack: Veggie people
Cream-filled mustache cake