Simple lemonade frozen yogurt
You don't have to drink your lemonade because now you can enjoy it as a frosty dessert. Greek yogurt is sweetened with agave nectar and blended with fresh lemon juice and lemon zest making this old-fashioned drink our new favorite frozen treat.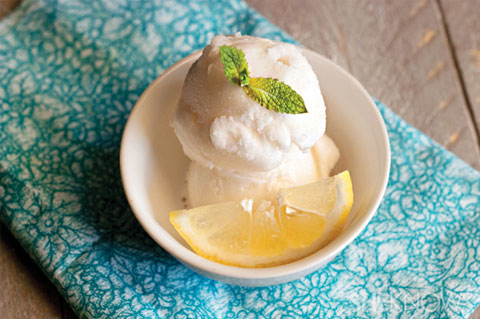 Who doesn't love an icy-cold glass of lemonade? In this recipe, you get all those fresh, wonderful lemonade flavors transformed into an icy-cold frozen treat. Adding the yellow food coloring helps achieve that "yellow" lemonade color but if you opt to leave it out, it will not alter the recipe in any way.
Simple lemonade frozen yogurt recipe
Yields 1-1/2 quarts
Ingredients:
1 quart vanilla Greek yogurt
12 ounces frozen lemonade concentrate, thawed
1 cup half-and-half or heavy whipping cream
2 lemons juiced
Zest of 1 lemon
1/2 cup agave nectar or sugar
1-2 drops of yellow food coloring (optional)
Directions:
In a large bowl, add all of the ingredients mixing very well. Place the bowl in the refrigerator and chill the mixture for 1 hour or until very cold.
Add the mixture into the bowl of an ice cream machine and freeze the mixture as directed by the ice cream maker. Once frozen, scoop mixture into a freezer safe container and store in the freezer until ready to serve.
More frozen yogurt recipes
Easy fruit and yogurt pops
Strawberry frozen yogurt
Low calorie frozen blueberry yogurt