Easy road trip snack recipes
When you have kids, road trips aren't exactly as fun and carefree as they once were. To avoid having a mental breakdown or filling your kids with junky fast food and sugar-filled candy, pack a few bags of these healthy homemade road trip snacks!
From granola bars to homemade caramel corn, these sweet and salty snacks will keep your kids (and husband) plenty occupied on the long car ride. Plus, they're made with only natural ingredients so you can feel good having a few bites too!
Peach oat muffins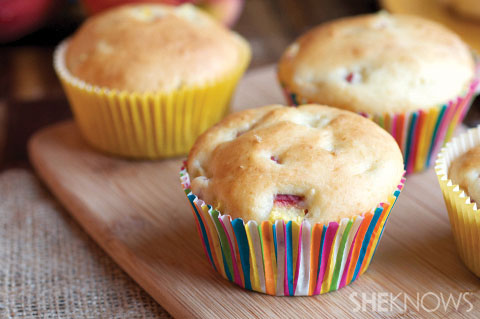 Yields 12 muffins
Ingredients:
4 tablespoons unsalted butter
2 cups all-purpose flour
1 tablespoon baking powder
Dash of salt
1 egg
1/2 cup sugar
1/4 cup brown sugar
1/2 cup 2 percent milk
3/4 cup Greek yogurt
2 large peaches, chopped into pieces
Directions:
Preheat oven to 350 degrees F and line a muffin tin with paper liners. Set aside.
Beat the butter and sugars together. Add egg and Greek yogurt and beat to combine.
In another large mixing bowl, whisk the flour, baking powder and salt together. Add the egg to the flour and mix. Gradually add the milk, about 2 tablespoons at a time, until batter is mixed. Slowly stir in peaches until fully incorporated.
Fill each muffin cavity about 2/3 the way full with batter. Bake for about 30 minutes, or until golden brown. Serve warm.
Trail mix granola bars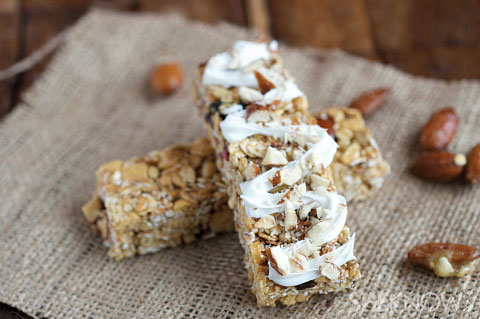 Recipe inspired by My Humble Kitchen.
Serves 12
Ingredients:
1-2/3 cups rolled oats
1/4 cup honey
2 tablespoons molasses
1/4 cup unsalted butter, melted
1/4 cup brown sugar
1/3 cup flour
Dash of salt
1/2 cup peanuts, chopped
1/2 cup almonds
2-1/2 tablespoons mini chocolate chips
1 teaspoon vanilla extract
Directions: 
Preheat oven to 350 degrees F. Line a 9 x 13-inch cake pan with aluminum foil and spray with nonstick cooking spray.
In a large mixing bowl, mix all of the ingredients together. Pour mixture into the pan and press down with a plastic spatula for at least a minute.
Bake for 20 to 25 minutes, or until tops are golden. Let cool in pan and then cut into bars and garnish with white chocolate drizzle.
Caramel popcorn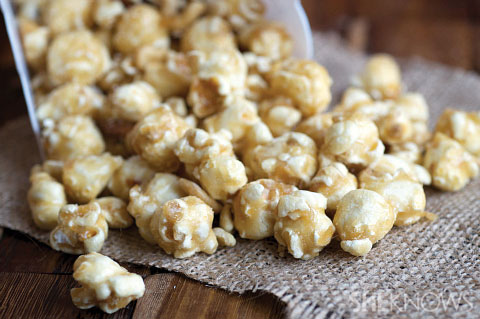 Recipe slightly adapted from Gimme Some Oven.
Serves about 6
Ingredients:
1/2 cup unsalted butter
1 cup packed brown sugar
1/4 cup corn syrup (light) or molasses
Dash of salt
1/4 teaspoon baking soda
1/2 teaspoon vanilla
12 cups popped popcorn
Directions: 
Heat oven to 300 degrees F. Grease a baking dish with nonstick cooking spray.
Melt butter in a medium pot over medium-high heat. Add brown sugar and corn syrup and bring mixture to a boil. Reduce heat to low and let simmer for about 5 minutes, without stirring. Heat another 4 minutes, stirring every 30 seconds, until mixture is golden brown. Remove from heat and stir in baking soda and vanilla. Stir in the popped corn and toss until coated with caramel.
Pour caramel popcorn into the prepared pan and bake for about 15 minutes, or until rich and golden. Remove from the oven and break into pieces.
Healthy peanut butter granola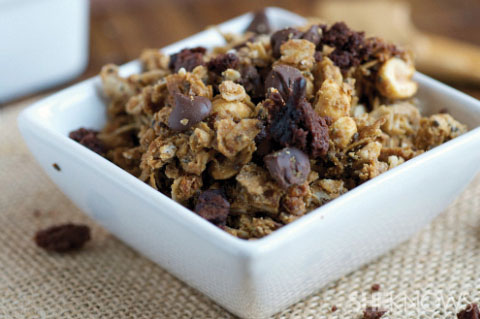 Serves about 8
Ingredients:
2/3 cup low-fat creamy peanut butter
1/3 cup honey
1 teaspoon cinnamon
1 teaspoon vanilla extract
4 cups uncooked oats
2-1/2 tablespoons chia seeds
1 cup peanuts or almonds
1 cup chocolate chips
Directions: 
Heat oven to 300 degrees F. Line a baking dish with foil.
In a saucepan over medium heat, heat the peanut butter, honey and cinnamon. Heat until melted, about 2 to 3 minutes over medium heat.
In a large bowl, mix the oats, chia seeds and peanuts together. Pour the melted peanut butter mixture over the oats and stir to combine.
Stir in the chocolate chips, careful not to stir too much (or they will melt).
Spread mixture evenly in the dish. Bake for about 30 to 40 minutes, or until golden brown. Remove pan from oven. Once oven has cooled, place pan back in to dry (about an hour).
More quick and easy snack recipes
21 Homemade snacks under 100 calories
5 Great snacks in less than 15 minutes
Healthy snack recipes for kids