Cupcake flag cake
Make a statement with your Fourth of July dessert by serving this flag cake made from mini vanilla cupcakes! And don't worry, it's super easy to make and assemble, no advanced baking degree required.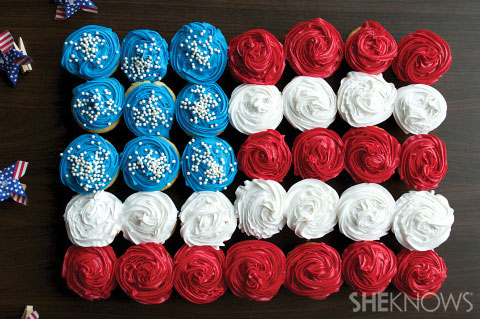 This dessert will stop your family and friends in their tracks, and your kids will jump at the chance to help you make it! If you don't have a mini muffin pan, simply use regular size cupcakes. For some added sparkle, top each cupcake with matching edible glitter.
Flag mini cupcake cake
Yields 35 mini cupcakes
Ingredients:
2 boxes vanilla cake mix
6 eggs
1 cup oil
2 cups water
2 cups vanilla buttercream
Red and blue food coloring
White pearlized sprinkles
Directions:
Preheat oven to 350 degrees F. Line a mini muffin tin with mini paper liners.
In a large mixing bowl, mix the vanilla cake mix, eggs, oil and water, stir to combine. Fill each mini liner 2/3 full with batter and bake for about 16–18 minutes or until golden brown.
Let cupcakes cool in pan slightly then remove and let cool on a wire cooling rack completely.
Frost 15 cupcakes with red frosting, 11 cupcakes with white frosting and then 9 with blue frosting. Add some white pearlized sprinkles to the blue cupcakes.
Arrange the cupcakes in a flag pattern and enjoy!
More fun cupcake recipes
Owl cupcakes recipe
Lavender cupcakes with Earl Grey icing
10 most unique and creative cupcakes