Almond apple scones
Almond apple scones are simple to make ahead and reheat for yummy breakfast options during the week. Perfect with tea, coffee or a glass of water, these scones are sure to satisfy!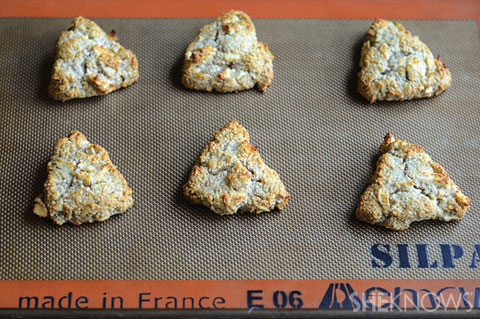 Almond apple scones
Makes 6 scones
Ingredients:
2-1/2 cups almond meal
2 egg whites
1 cup chopped dried apples
2 tablespoons honey
1 teaspoon baking soda
1 teaspoon baking powder
1 teaspoon ground cinnamon
1/2 teaspoon salt
Directions:
Whisk together the egg whites, honey, baking soda, baking powder, cinnamon and salt until completely combined and foamy.
Fold in the almond meal and chopped apples until completely combined.
Press the dough into a circle, about 10 inches in diameter.
Using a sharp knife cut the circle into sixths and gently place each slice about 2 inches apart on a baking sheet lined with parchment paper or a silicone baking mat.
Bake at 350 degrees F for 10-12 minutes until golden brown.
Serve warm or at room temperature.
More delicious scone recipes
Orange raisin scones
Strawberry lemonade scones
Raspberry scones with lemon drizzle icing