Dinner Shortcuts: Easy edamame and bacon pasta salad
No need to heat up the oven with this dish! This simple pasta salad can be served as dinner or a light lunch.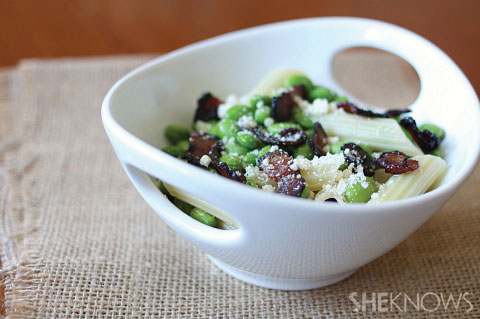 When the summer sun is shining, it can make the thought of cooking a huge inconvenience. This simple pasta salad can be thrown together in about 15 minutes and will be sure to please hungry bellies. It's packed full of fresh steamed edamame, crispy bacon, pasta and just a sprinkle of salty Parmesan cheese. If you are looking for more protein, this salad is perfect with a little leftover grilled chicken.
Easy edamame and bacon pasta salad recipe
Serves 4
Ingredients:
1 pound pasta (we used penne but bowtie is a great option, too) 
1 pound bacon, diced
2 cups steamed edamame
1/4 cup grated Parmesan cheese
Drizzle of olive oil
Directions:
Cook pasta until al dente, following the box directions. Drain and rinse with cold water.
Add chopped bacon to a large frying pan and cook till crispy. Add cooked bacon to a paper towel-lined plate to soak up any remaining grease.
Add pasta to a large bowl and stir in bacon, edamame and Parmesan cheese.
Drizzle with olive oil to add a little moisture to the salad. This step is not necessary but adds nice flavor.
Serve pasta room temperature or cold.
More pasta salad recipes
Vegan pasta salad recipe
Bruschetta pasta salad recipe
Creamy lemon-infused pasta salad recipe