Red white and blue poke cake
Want a more exciting dessert this 4th of july? Forget the cupcakes and the sugar cookies and serve up this decadent red, white and blue poke cake! Made with sweet strawberry Jell-O and your favorite vanilla cake, this is bursting with flavor (and patriotic flair)!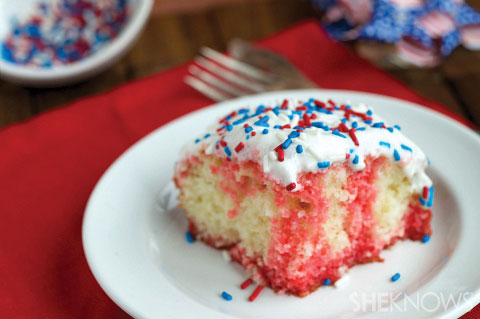 The addition of the strawberry Jell-O makes this cake even more flavorful, moist and decadent than normal. Topped with whipped topping and red, white and blue sprinkles, this cake will have everyone talking (and eating!) at your 4th of July celebration.
Red, white and blue poke cake
Serves about 12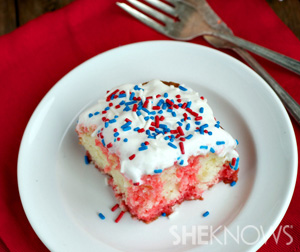 Ingredients:
1 box vanilla cake mix
1 (4 ounce) box strawberry Jell-O
1 cup boiling water
1/2 cup cold water
Frozen whipped topping
Red, white and blue sprinkles
Directions:
Preheat oven to 350 degrees F. Grease an 8 x 8-inch square baking dish with nonstick cooking spray. Mix the cake mix according to the package and pour into the pan. Bake until fully cooked, about 35–40 minutes. Let cool in pan until completely cooled.
Once cooled, poke holes all over the cake with a fork.
Mix the boiling water, cold water and Jell-O mix together. Pour over cake (it'll absorb into the holes). Chill for 2 hours.
Once chilled, top with whipped topping and sprinkles. Serve immediately!
More 4th of July dessert recipes
Fourth of July firecracker cakelette
4th of July cake pop recipe
4th of July pop star cookie recipe