Dinner Shortcuts: Creamy refried bean dip
Serve it as a dip or as supper! This simple dip is layers of beans, cheese, sour cream and anything else you want! So simple and oh so delicious!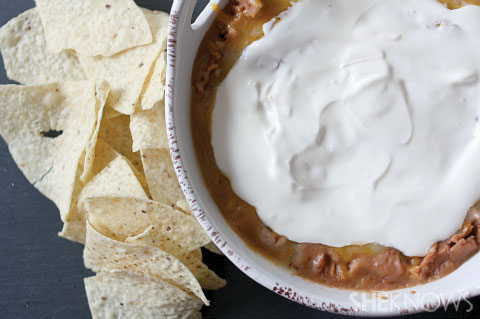 There is nothing better than making a quick dinner and then being able to relax while digging in. This simple dish can easily be served as supper or even as a pre-meal snack. It's packed full of beans so it has lots of protein and fiber. Perfect for keeping you full. We like to serve ours with a slathering of sour cream on top but don't worry if you are not a fan. It still tastes delicious even without the tangy sour cream addition.
Creamy refried bean dip
Yields 9 x 9-inch dish
Ingredients:
2 (15 ounce) cans refried beans (or use homemade, our recipe can be found here)
1 cup salsa
2 cups Mexican blend shredded cheese
1/2 - 1 cup sour cream
Directions:
Spread out beans in dish. Cover with salsa and cheese. Bake for 15 minutes until the cheese is melted and the beans are warm.
Cover with desired amount of sour cream and serve with corn chips.
More dip recipes
Apple pie salsa recipe
Fantastic party dip recipes
4 unique guacamole recipes