Crunchy caramel and kettle corn ice cream
Are you a sucker for sweet and salty? If so, this ice cream is going to be your new favorite. It's creamy and sweet with just the right amount of salty crunch from caramel popcorn. It's the next best thing to happen to ice cream since the waffle cone.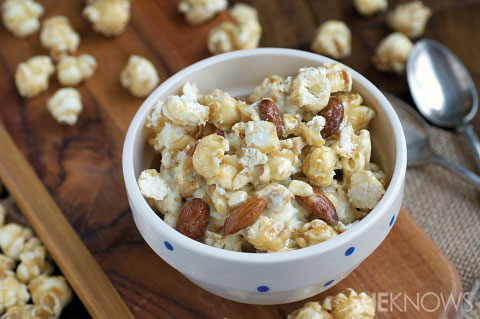 To give you an extra dose of crunchy, sweet and salty, we mixed chunks of caramel and kettle corn into the ice cream while it was churning. Then we topped each serving with a bunch more. This is definitely going to be made a few times in our kitchens this summer!
Crunchy caramel and kettle corn ice cream
Serves about 6
Ingredients:
1-1/2 cups milk (we used 2%)
3 cups heavy whipping cream
1 cup sugar + 2 tablespoons
1 teaspoon vanilla extract
2 cups caramel corn
1 cup kettle corn
Caramel drizzle (use this recipe for homemade)
Dash of salt
Directions: 
In a large mixing bowl, beat the milk, heavy whipping cream and sugar together until sugar dissolves. Stir in the vanilla. Cover with foil and let chill in the fridge for at least an hour.
Once chilled, pour into the freezer basin of an ice cream mixer. Turn machine on and churn for 15 minutes, or until it starts to thicken. Add in 1-1/2 cups of caramel corn and 3/4 cup of kettle corn and let churn another 5 minutes.
Serve immediately (for soft ice cream) or freeze until firm. Garnish ice cream with remaining kettle corn and caramel corn. Drizzle each serving with caramel sauce.
More ice cream recipes
Vegan cake batter ice cream recipe
Homemade blood orange ice cream
Ice cream sandwiches on a stick