Cobbler in a cup
Cobbler in a cup is the best way to make a single-serving dessert without all the fuss. Choose your favorite fruit and preserves combination, then top with granola and go to town!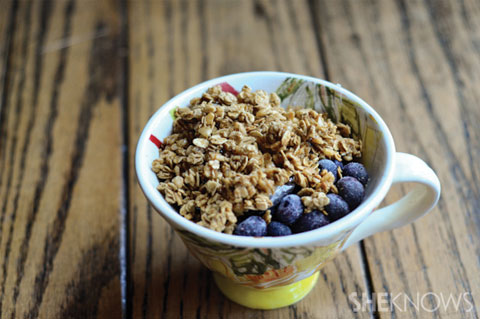 Cobbler in a cup
Serves 1
Ingredients:
1/2 cup frozen or fresh fruit of choice
1 tablespoon fruit preserves of choice
1 teaspoon flour
Pinch of cinnamon
1/3 cup granola of choice
Yogurt or ice cream (optional)
Directions:
In a microwave safe mug, stir together the fruit, preserves, flour and cinnamon until well combined.
Microwave on high for about 2-3 minutes until bubbly and warmed through. The mixture should also be thickened from the flour as well.
Top warm fruit mixture with granola and yogurt or ice cream if desired.
More yummy single-serving desserts
Blueberry teacake in a jar
Chocolate trifle
Banana cream pudding