4 Unique bratwurst recipes
Summer, to us, means three things: beach vacations, bathing suits and bratwurst (we didn't even plan for all that alliteration). Kick off the grilling season right and add some variety to your normal bratwurst routine by serving one of these four unique recipes!
Bratwurst isn't just good on the bun, and these recipes prove that! From fresh summer salads to a spicy Alfredo, there's a sausage recipe here everyone will love this summer!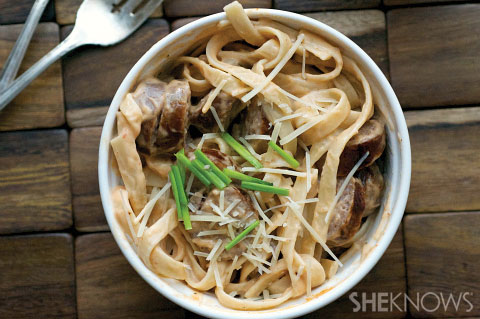 Sriracha pasta Alfredo with bratwurst
Serves 4
Ingredients:
12 ounces pasta
3 tablespoons butter
2 garlic cloves, minced
2 cups heavy cream
1/2 cup grated Parmesan cheese
1/2 cup cream cheese
1/4 cup goat cheese
3 tablespoons sriracha sauce
Salt and pepper to taste
2 bratwursts, cooked and sliced
Directions:
Bring a large pot of water to a boil. Add pasta and cook until noodles are fully cooked, about 8 minutes. Add salt to the water. Rinse and set aside.
In a medium skillet, melt butter. Add garlic and cook until fragrant, about 2 minutes. Add cream and cook until thick, about 8 minutes, stirring constantly.
Once thickened, remove from heat and stir in cream cheese, goat cheese and Parmesan cheese. Stir in sriracha, salt and pepper.
Mix in pasta and bratwurst.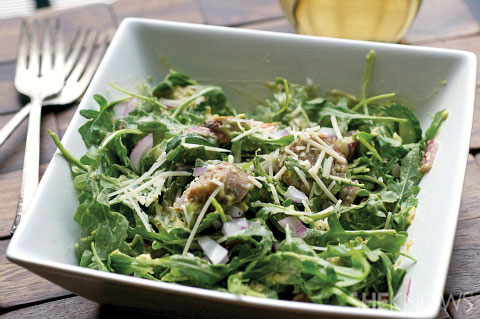 Bratwurst summer salad
Serves 4
Ingredients:
2 bratwursts
4 cups baby arugula (or fresh lettuce greens)
2 plum tomatoes, chopped
2 mini cucumbers, thinly sliced
1/4 cup diced onion
For the dressing:
1/2 large avocado, pitted and mashed
1/2 cup mayonnaise
1/4 cup sour cream or Greek yogurt
2-1/2 tablespoons chopped onion
1 teaspoon lemon juice
Salt and pepper
Directions:
Preheat a grill to medium-high heat. Add bratwursts and grill until fully cooked, about 5 minutes on each side. Let rest on a cutting board for about 10 minutes. Once rested, slice into 1-inch thick slices.
In a large bowl, mix the salad greens, tomatoes, cucumbers and diced onion together. Top salad with sliced bratwurst.
To make the dressing, place the avocado, mayo, sour cream, onion, lemon juice and salt and pepper in a food processor. Blend until creamy. Dress salad.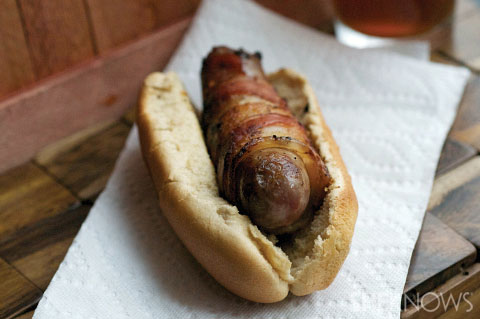 Bacon wrapped bratwursts
Serves 2
Ingredients:
2 medium bratwursts
2 hot dog buns
4 slices bacon
Directions:
Preheat a grill to medium-high heat. Wrap each bratwurst with 2 slices of bacon and use a toothpick to hold it together. Grill until bacon and bratwurst are fully cooked, about 7 to 10 minutes.
Meanwhile, preheat oven to 350 degrees F. Place hot dog buns in the oven and toast until golden brown.
Once bratwursts are done cooking, immediately top with cheese. Serve on the toasted buns and enjoy!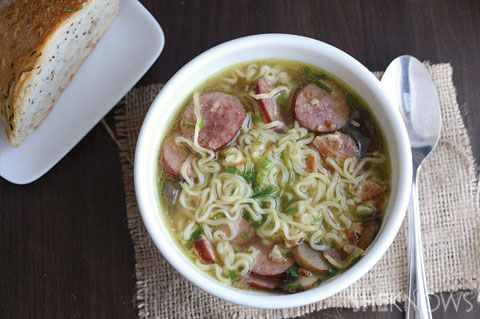 Easy bratwurst soup
Serves about 4
Ingredients:
1 tablespoon extra virgin olive oil
3 cloves garlic
3 green onions, chopped
1 cup sliced mushrooms
1 medium carrot, sliced
4 cups low-sodium, fat-free beef broth
1 cup water
2 tablespoons low-sodium soy sauce
About 2 cups fully cooked bratwurst
1 block ramen noodles
Chives and sprouts for garnish
Directions:
Heat olive oil in a medium pot over medium-high heat. Add garlic and cook until fragrant, about 3 minutes. Add green onions, carrot and mushrooms and reduce heat to medium. Cook vegetables until soft, another 4 minutes or so. Add soy sauce, broth and water.
Increase heat to high and bring mixture to a boil. Reduce heat to low and let simmer for about 6 minutes. Add in ramen noodles and sausage and simmer until the noodles are soft. Season with pepper or salt.
Serve immediately and garnish with chives.
More bratwurst and sausage recipes
Sausage, cheese & sun-dried tomato pasta recipe
Slow cooker bratwurst and apples
German brats and sauerkraut