Dad "rocks" no-bake cookies
Want to make a fun dessert for your dad or husband that your kids will love helping out with? Try these fun rock and pebble-inspired no-bake cookies to show your dad how much he "rocks!"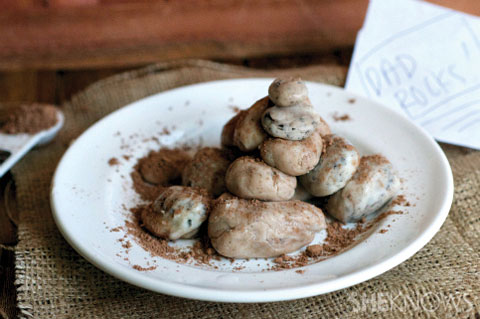 For a fun prank, put these in a tin and don't tell your dad or hubby that they are edible, and watch his reaction when you take a bite! Your dad rocks, so why not give him a delicious cookie that literally says that?
Dad "rocks" no-bake cookies
Recipe adapted from Hungry Happenings
Yields about two dozen rocks
Ingredients:
24 ounces white confectionery coating or candy melts (we used this)
1/2 teaspoon unsweetened cocoa powder
1/4-1/2 cup crushed Oreo cookies
1 can low-fat sweetened condensed milk
Dash of salt
Directions:
Heat the candy melts, milk and a dash of salt in a medium saucepan over low heat until mixture starts to melt. Stir constantly to avoid burning. Remove from heat and stir in 1/4 cup Oreo crumbles.
To add different colors, separate mixture into 3 bowls. Leave 1 bowl as is and add another 1/4 cup Oreo crumbles to another. To the third, add the cocoa powder. Mix to combine each. Wrap each bowl with plastic wrap and let sit for about 30 minutes.
To make the rocks, pinch off pieces of the fudge mix and roll into rock shapes. Add some pebbles by rolling smaller shapes.
More fun cookie recipes
Mini taco cookies recipe
Chocolate broccoli cookies
Carrot sugar cookies