Chocolate chip oatmeal pancakes
Chocolate chip pancakes are a big hit with the little ones. We added in a little oatmeal to make their breakfast treat just a bit healthier.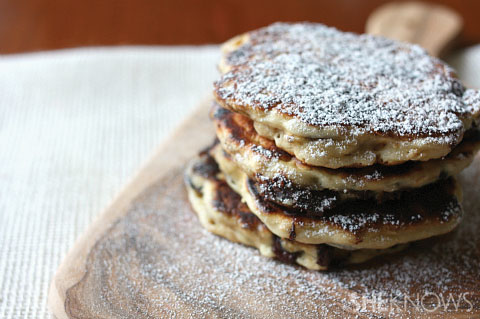 These hearty pancakes will brighten just about anyone's morning. Packed full of chocolate chips and oatmeal, it's an adult twist to the classic child breakfast treat. Don't worry if you don't like maple syrup. These are sweet enough with the chocolate chips and just a sprinkle of powdered sugar.
Chocolate chip oatmeal pancakes
Yields 6 medium-size pancakes
Ingredients:
1/2 cup all-purpose flour
1/2 cup quick cooking oats
2 teaspoons baking powder
1 tablespoon agave syrup
1 egg
1/2 cup whole milk
1 teaspoon vanilla extract
1/2 cup chocolate chips
1-2 tablespoons unsalted butter
Directions:
In a large bowl, whisk together flour, oats and baking powder.
In a small bowl, whisk together agave syrup, egg, milk and vanilla extract. Pour into dry ingredients and stir until combined. Fold in chocolate chips.
In a large skillet, add 1 tablespoon unsalted butter and melt over medium heat.
Add about 1/3 cup batter per pancake to skillet. Cook until browned on one side, flip and cook until browned on the other side. Add more melted butter to the pan if needed.
Serve warm.
More pancake recipes
Bacon and corn pancake recipe
St. Patrick's Day pancake recipe
Vegetable-packed pancake recipe