Microwave breakfast cobbler
Microwave breakfast cobbler makes having dessert for breakfast totally doable. Fresh or frozen fruit and cinnamon are the base, topped with an easy crumble and cool vanilla yogurt. You'll never look at cobbler the same way again!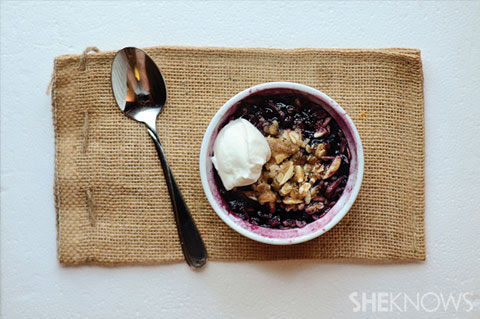 Microwave breakfast cobbler
Serves 1
Ingredients:
1 cup fresh or frozen fruit of choice (blueberries, apples, cherries and peaches all work well) Note: If using frozen fruit, make sure it is thawed when measuring
1/2 teaspoon cinnamon
1 tablespoon coconut oil, melted
1 tablespoon slivered almonds
1 tablespoon old fashioned rolled oats
1 tablespoon brown sugar
Vanilla yogurt (optional)
Directions:
Place the fruit into a microwave safe bowl and toss lightly with cinnamon.
In a separate bowl, stir together the coconut oil, almonds, oats and brown sugar until well combined.
Evenly sprinkle the oat mixture on top of the fruit.
Refrigerate overnight to allow the coconut oil to harden.
When ready to eat, microwave on high for 3 minutes until the fruit is bubbly.
Let cool for 4 to 5 minutes.
Serve hot with vanilla yogurt if desired.
More wonderful cobbler ideas
Bumbleberry cobbler
One skillet peach cobbler
Pear-apple cobbler