Skillet pesto Alfredo ravioli
Can't get your kids to eat pesto because it's "green?" Disguise it in their favorite sauce, creamy Alfredo! This pesto Alfredo is filled with fresh herb flavor and is slathered over cheese-filled pesto!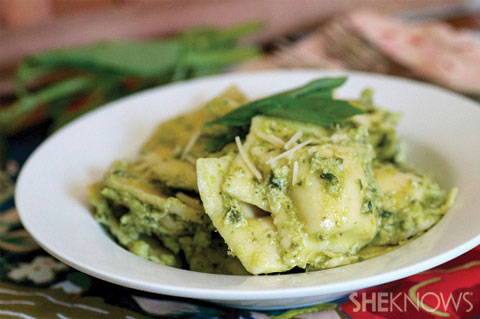 This meal can be made in less than 20 minutes and can be made with either fresh or frozen ravioli. The spicy and herby basil pesto paired with the rich, creamy Alfredo will make this dish perfect for those busy summer weeknights!
Pesto Alfredo ravioli
Serves about 6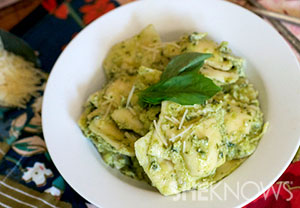 Ingredients:
1 pound frozen cheese ravioli
For the pesto:
1 cup fresh basil
1/3 cup walnuts, chopped
1/3 cup olive oil
1/2 cup Parmesan cheese
1-1/2 tablespoons lemon juice
Salt and pepper
For the Alfredo:
1 cup heavy whipping cream
3/4 cup Parmesan cheese
1-1/2 teaspoons cornstarch
Salt and pepper
Directions:
Bring a large pot of water to a boil. Add ravioli and salt; boil until raviolis are soft and float to the top. Rinse and set aside.
To make the pesto, place the basil, walnuts, Parmesan cheese, lemon juice and salt and pepper in a food processor. Gradually add the oil and pulse until smooth.
To make the Alfredo, bring the heavy cream to a boil. Add cornstarch and reduce to a simmer (until sauce thickens up). Gradually whisk in pesto until fully combined and thick (sauce should coat the back of a wooden spoon).
Mix the raviolis and pesto Alfredo together. Top with shredded Parmesan and crushed black pepper.
More family recipes
Breakfast skillet with chorizo and eggs
One-pot chicken and couscous recipe
One-pot chicken and noodles