Play with your food: Fun fruit shapes
Having a hard time getting your kids to eat anything healthy, like veggies and fruits? Skip the blackmail tactic (no dessert unless you eat your ___!) and opt for a more fun strategy instead, like making these cute fruit shapes!
Not only are these fun fruit shapes adorable, but they are fun to assemble too. So your kids will gobble up their fruits and help you in the kitchen as well! Talk about a win-win!
Palm trees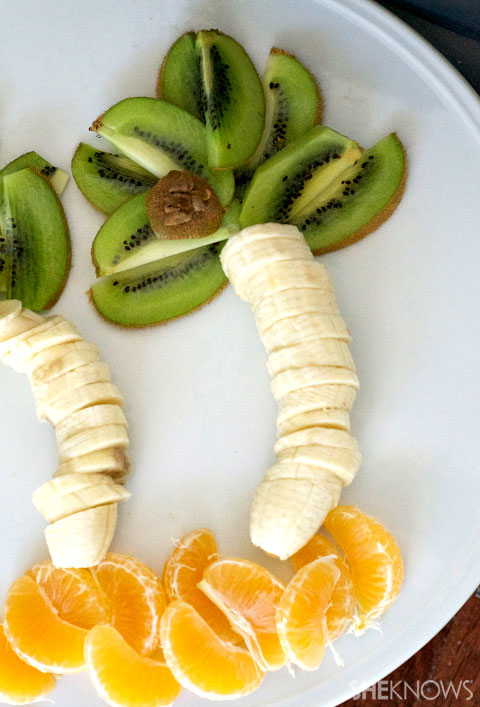 Serves about 2
Ingredients:
2 bananas, sliced
2 kiwis, cut into wedges
2 clementine oranges, peeled
Directions:
Arrange the bananas on a tray in a tree stump pattern, angling slightly to the right. Top the banana shape with the kiwi wedges, creating palm tree leaves. Place a few scatters of the orange slices underneath the bananas to make sand.
Very hungry caterpillar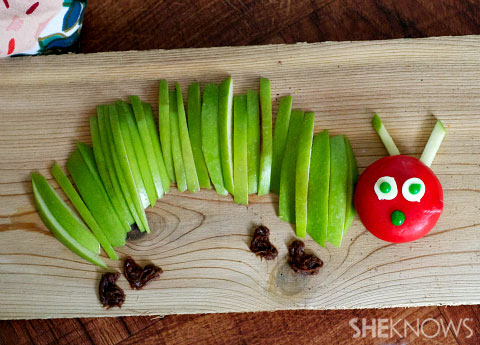 Serves about 2
Ingredients:
1 Babybel cheese, wax on
1/2 green apple, cut into sticks
2 white chocolate chips
Chocolate icing gel
Green cookie gel
Directions:
Place the Babybel cheese on a plate. To make the caterpillar body, arrange the apple slices in an upside down half circle, connecting to the cheese. Gently push the white chocolate chips into the cheese to make eyes. Add 2 small dots into the chips using the green cookie icing.
To make the legs and the antlers, draw them on the plate/tray using chocolate icing gel.
"Dead" fish apple snack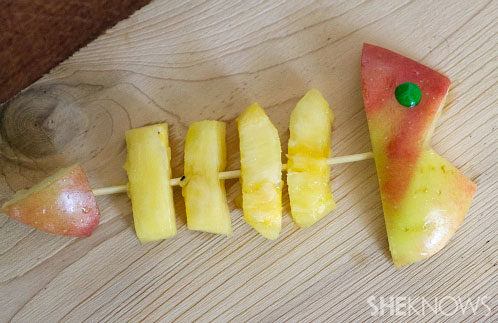 Yields 2 fish
Ingredients:
1 large toothpick
1/2 red gala apple
6 pineapple chunks, cut into thin rectangles
White cookie icing
Directions:
Cut a fish head shape out of the apple. Stick the top onto a toothpick and skewer the pineapple chunks behind it. Cut a tail shape out of the apple and skewer behind the pineapple.
More fun-shaped foods
How to make shaped pancakes for kids
Octopus and penguin-shaped bread bowls
Magical wand fruit kebabs