Easy homemade white sandwich bread
Growing up, the only bread my brothers would eat was white. The kind that came in a plastic bag with multicolored dots all over it. If your kids are similar white bread fanatics, make them this fluffy homemade loaf in lieu of the sticky store-bought stuff.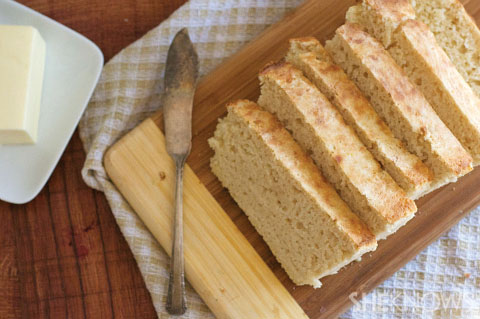 The best thing about this recipe is that it's so easy and can be doubled or tripled. Plus, it's so versatile. You can use it for sandwiches, French toast, bread pudding — the options are endless! Our favorite way is simple — toasted with a ton of butter.
Easy homemade white sandwich bread
Yields 1 loaf
Ingredients:
1-1/2 cups warm milk (at least 110 degrees F)
1 tablespoon sugar
1 packet (2-1/4 teaspoons) active dry yeast
Dash of salt
4 cups all-purpose flour
2 tablespoons butter
Directions:
In a large bowl, mix the milk, sugar and active dry yeast together. Let sit for about 10 minutes, or until yeast starts to bubble up.
Add in the flour, butter and salt. Stir until a smooth dough forms, about 2-4 minutes. Place on a lightly floured surface and knead until smooth.
Liberally oil a mixing bowl. Place the dough into the mixing bowl. Cover with a damp towel and place in a warm place to rise for about 90 minutes.
Punch dough down slightly. Liberally grease a 9 x 5-inch loaf pan with nonstick cooking spray. Place the dough into the bread pan and cover with another damp towel. Store in a warm place and let rise another 60-90 minutes, or until doubled in size with a bit of an overhang.
Preheat oven to 325 degrees F. Bake bread for about 30-40 minutes, or until golden brown.
More homemade bread recipes
Slow cooker rosemary olive oil bread
Focaccia with Parmesan tomatoes and rosemary
Dutch oven baked fresh bread