Star-spangled ice cream sandwiches on a stick
These star-spangled ice cream sandwiches are going to be a hit at your Fourth of July party. Simple ice cream sandwiches are dipped in sprinkles and skewered on a little wooden stick. These are a great red, white and blue treat to let the kids help with.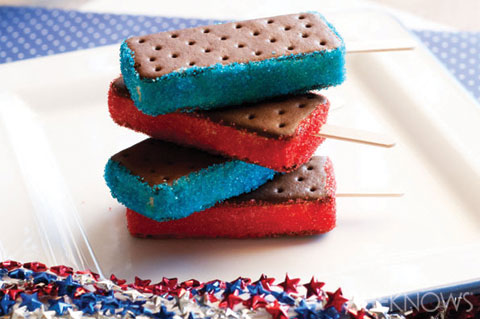 These are a fun little treat to let your kids make. They take no time at all to prepare and the kids will have fun eating them because they look like ice cream sandwich ice pops. They are cheap and save time for us busy moms.
Star-spangled ice cream sandwiches on a stick recipe
Yield 24 servings
Ingredients:
24 small wooden skewers or long toothpicks
12 store-bought ice cream sandwiches
Red and blue sprinkles
Wax paper
1 baking sheet
Directions:
Add the sprinkles to a plate and line a baking sheet with wax paper.
Cut each of the 12 ice cream sandwiches in half. Allow them to sit on the counter for several minutes or until the ice cream center begins to melt.
Insert 1 wooden skewer or toothpick into each of the ice cream sandwich halves. Dip the sides of the ice cream sandwich into the sprinkles. Place on the wax paper and freeze until ready to serve.
More Fourth of July-inspired treats
4th of July desserts
Patriotic 4th of July recipes
Red, white and blue layered drinks