Summer sweet peas with bacon and honey roasted cashews
This dish tastes as good as it looks. Sweet peas are combined with crispy applewood smoked bacon and sweet honey roasted cashews that can be served as either a side dish or as a salad when mixed with greens. A drizzle of the lemon maple dressing really adds depth and sweetness to this already fantastic recipe.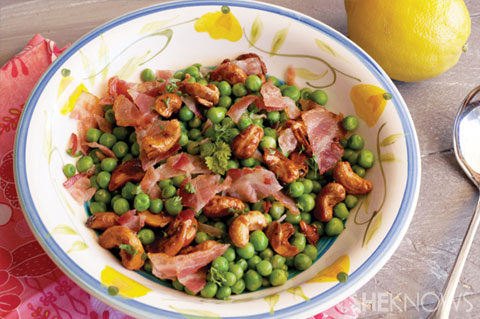 This salad is so refreshing and is the perfect dish for any summer gathering. Sweet peas and bacon really pair well in this dish and the cashews add just a hint of sweet crunch. There's the perfect mixture of sweet and salty in every bite.
Summer sweet peas with bacon and honey roasted cashews recipe
Lightly adapted from where the cookies are
Yields 4-6 servings
Ingredients:
1 (16 ounce) bag frozen sweet peas, thawed
6 slices applewood smoked bacon, cooked and crumbled
1/4 cup store-bought honey roasted cashews
2 green onions, very thinly sliced
For the dressing:
2 tablespoons extra virgin olive oil
1 tablespoon Champagne vinegar
1 tablespoon fresh-squeezed lemon juice
2 tablespoons pure maple syrup
Sea salt and pepper to taste
Directions:
In a bowl, mix all the ingredients for the dressing together. Set aside.
In a large mixing bowl, add the peas, bacon, cashews and sliced green onions. Toss with the lemon maple dressing and serve immediately or at room temperature.
More recipes using sweet peas
Creamy fettuccine with sweet peas
Frittata with peas & carrots
Sweet pea bars