Apple ginger streusel cake
Imagine the best piece of apple pie you've ever had. Envision the smell, the taste, the texture. Now, get ready to have your mind blown. These gooey, buttery apple ginger bars have all the taste you love from pie, just in a completely melt in your mouth cake.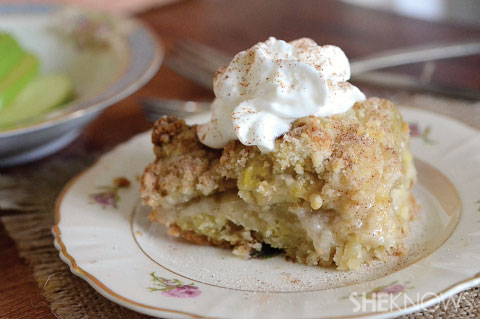 The sweet filling made with apples and ginger paired with the buttery streusel makes for one insanely decadent dessert. The serving size may feed eight people, but after one bite, you'll want at least four servings to yourself. So if you're having a party, we recommend tripling the recipe!
Apple ginger streusel bars
Serves about 8-10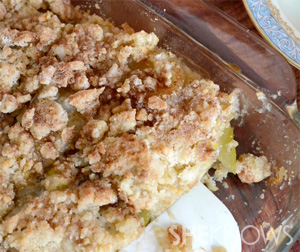 Ingredients:
For the crust & streusel:
2 cups all-purpose flour
1/2 cup sugar
1/2 teaspoon baking soda
Dash of salt
1 tablespoon cinnamon
1-1/2 sticks butter, softened
1/4 cup cinnamon applesauce
1 egg, beaten
For the filling: 
1 cup water
1 tablespoon lemon juice
1 cup brown sugar
1 teaspoon cinnamon
1/4 cup cornstarch
1/2 teaspoon vanilla or almond extract
3 cups Granny Smith apples, cored, peeled and chopped
1 tablespoon ginger
Directions:
Preheat oven to 350 degrees F. Liberally grease an 8 x 8-inch baking dish with nonstick cooking spray. Set aside.
Make the pie filling by combining the water, lemon juice, sugar, cinnamon, ginger, cornstarch and vanilla in a large saucepan. Bring to a boil and stir constantly until sugar dissolves. Reduce heat to low and mix until sauce is thick. Stir in apples. Cool to room temperature and then pour into a large Mason jar. Chill for at least 2 hours before use.
Meanwhile, prepare crust and streusel by stirring the flour, baking soda, sugar, cinnamon and salt together. Using a pastry cutter, cut the butter and applesauce into the flour until mixture resembles coarse sand. Mix in egg.
Press 2/3 of the mixture into the 8 x 8-inch baking dish with a spatula. Once filling has chilled, pour over the crust. Top with remaining streusel topping and bake for about 40 minutes, or until golden brown. Serve with ice cream or enjoy on its own!
More apple recipes
Apple quinoa parfait
Savory apple recipes
Apple and pear cider cups recipe