Asian style kale chips with spicy dipping sauce
Getting your kids to eat anything green is probably not very easy. Skip the crying, the temper tantrums and the tears by turning a leafy green into a chip with these sweet, salty kale chips!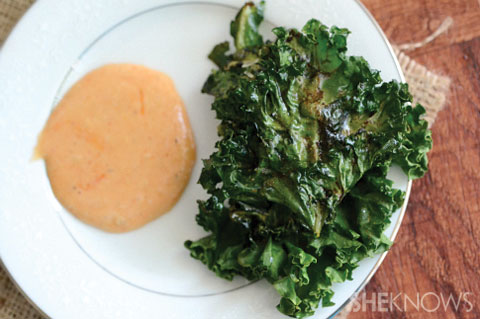 These baked leaves look healthy but taste just like their favorite salty snack. Serve these up with this slightly spicy dipping sauce for the perfect after-school snack or treat for their lunchbox!
Asian style kale chips
Serves about 6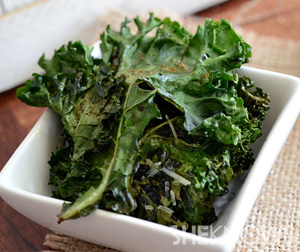 Ingredients:
1 bunch fresh kale
2 tablespoons sesame oil
2 tablespoons soy sauce
1/2 tablespoon lemon juice
1/2 teaspoon garlic powder
Dash of ginger
Salt and pepper
Directions:
Preheat oven to 350 degrees F. Line a baking sheet with parchment paper and set aside.
Wash and rinse kale. Cut leaflets into large chips.
In a large mixing bowl, add the sesame oil, soy sauce, lemon juice, garlic powder, ginger and salt and pepper. Add the kale chips and mix with your hands.
Place the chips on the parchment paper (do not stack).
Bake for about 10-15 minutes, or until crispy.
Spicy dipping sauce
Yields 1 cup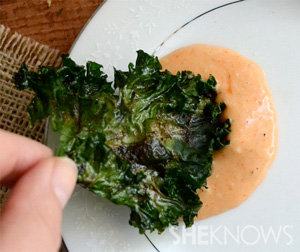 Ingredients:
1 egg yolk
2 tablespoons vinegar
1/2 tablespoon spicy mustard
3/4 cup oil (we used grape seed)
1/4 cup sriracha
Dash of lemon juice
Directions:
Place the yolk, vinegar, salt and pepper and mustard in a food processor and pulse until creamy. Gradually add the oil, one drip at a time, until thick and creamy. Don't add the oil all at once or the mixture will separate.
Add in sriracha and lemon juice and blend until combined.
More healthy snack ideas
Healthy snacks my kids love
Top 10 healthy snacks for kids
Healthy snack recipes for kids