3 Airline-friendly snacks for kids
Traveling with kids is never easy; however, traveling with hungry kids is downright impossible. Keep your kids' hunger at bay on long (or short) flights by packing one of these salty and sweet snacks you can make at home!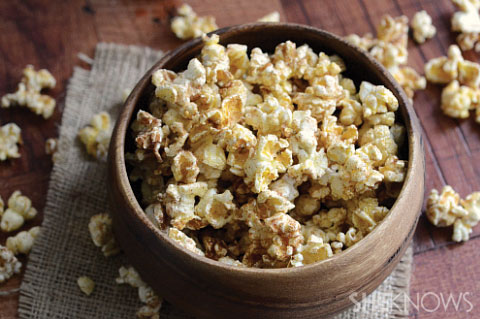 These kid-friendly snacks are not only easy to make, but they pack and stay fresh for hours! You'll have no need for overpriced chips or hamburgers when you can feed your kids one of these natural and fresh recipes!
Cinnamon sugar popcorn
Serves about 8
Ingredients:
8 cups popcorn, popped
2 tablespoons unsalted butter, melted
About 3-4 tablespoons cinnamon sugar
Dash of salt
Directions:
Pour the butter over the popcorn and top with cinnamon sugar. Stir with a wooden spoon to combine and coat.
Serve immediately or store in an airtight container.

Easy peanut butter granola bars
Recipe inspired by Two Peas & Their Pod
Yields about 8 bars
Ingredients:
1/4 cup unsalted butter
1/4 cup honey
1/4 cup brown sugar
1/4 cup + 1 tablespoon peanut butter
1/2 cup Chex cereal, chopped
2 cups oats
1/4 cup chopped pecans
1/2 cup chopped pretzels
1/2 cup chocolate chips, divided
Directions:
In a saucepan, heat the first 4 ingredients over medium heat until melted. Once the mixture starts to bubble, remove from heat.
Mix the oats, pretzels, pecans and cereal together. Pour mixture over it and stir to combine. Stir in chocolate chips.
Line an 8 x 8-inch baking dish with parchment paper. Cover with nonstick cooking spray.
Press the mixture into the parchment paper, smooshing it down with your hands.
Heat remaining chocolate chips in microwave at 30-second intervals until melted. Drizzle the melted chocolate over the bars.
Chill for at least 2 hours. Cut into bars and enjoy!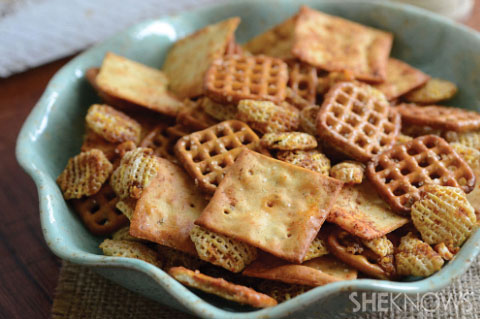 Spicy snack mix
Yields about 4 cups
Ingredients:
2 cups Chex cereal
1 cup pretzel squares
1 cup lentil crackers
1-1/2 tablespoons butter, melted
2 tablespoons soy sauce
1 tablespoon chili powder
Salt and pepper
Directions:
Preheat oven to 250 degrees F.
Mix the cereal, pretzel and crackers together. Mix the butter, soy sauce, chili powder and salt and pepper together.
Pour the spicy mix over the cereal mix. Pour the cereal mix into a baking dish and bake for about 30 minutes, stirring the mixture 15 minutes in.
More easy snack recipes
Honey cinnamon roasted chickpeas
5 Super snacks all kids will love
Flavorful and fresh: Favorite summer snacks