Peanut butter and banana French toast
Sometimes we just need a little fancy in our lives. This French toast is taken to the next level with lots of creamy peanut butter and sliced bananas. You will love starting your day when this breakfast shows up on your plate!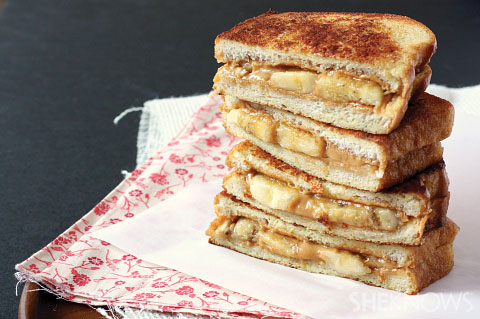 Looking for a quick breakfast that is delicious and sure to please the whole family? This simple peanut butter and banana French toast is packed full of flavor and perfect just simply grilled or even drizzled with maple syrup. You are going to love this breakfast!
Peanut butter and banana French toast
Yields 2 French toast "sandwiches"
Ingredients:
4 slices white bread
2 tablespoons butter, room temperature
1 large banana, sliced
1/2 cup peanut butter
Directions:
Lay out your bread and butter 1 side of each slice of bread.
Flip the bread over, divide the peanut butter and spread it on each slice. Cover 2 slices of bread with banana slices and top with a peanut butter slathered slice of bread.
Add to a pan over medium heat and cook until 1 side is brown and toasted. Flip and cook until the other side is toasted.
Serve warm with or without maple syrup.
More breakfast recipes
Bacon and corn pancake recipe
Almond poppy seed muffin recipe
Maple & bacon breakfast cupcake recipe