Churro cheesecake bars
Churros are a classic street food, but we have found a way to combine it with a New York classic — cheesecake. That's right, churro cheesecake bars. You won't be able to just eat one!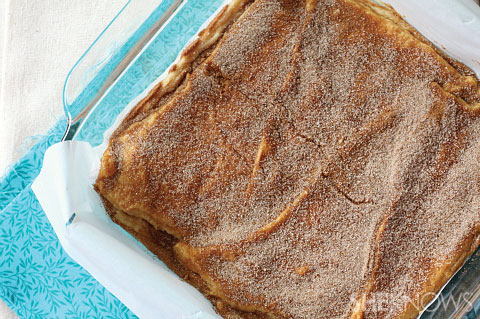 Churros are a fantastic treat but a pain to make from scratch. Who wants to heat up all that oil and deep fry? Not me! These simple churro cheesecake bars will give you the taste of churros with almost none of the work. You won't believe how easy this dessert is to throw together!
Churro cheesecake bars
Slightly adapted from Oh Bite It!
Yields 9 x 13-inch pan of bars
Ingredients:
2 (8 ounce) cans crescent rolls
2 (8 ounce) bricks cream cheese, room temperature
2 teaspoons vanilla paste
1 egg, beaten
1/2 cup sugar
1/2 cup cinnamon sugar (mix 1/2 cup sugar with 2 tablespoons cinnamon)
Directions:
Preheat oven to 350 degrees F.
Press 1 can's worth of the crescent rolls into the bottom of a 9 x 13-inch glass casserole dish.
In a bowl of an electric mixer, add cream cheese, vanilla paste, egg and 1/2 cup sugar. Mix until blended and spread across bottom of crescent roll crust.
Press together the other can of crescent rolls onto a piece of wax paper. Flip onto cream cheese mixture.
Bake for about 35 minutes until the top is golden brown. Sprinkle with 1/2 cup cinnamon sugar right after you take it out of the oven.
Let cool and enjoy!
More cheesecake recipes
Fried cheesecake burritos recipe
Nutella cheesecake stuffed strawberries recipe
Chocolate and peanut butter miniature cheesecake recipe