Almond and date muffins
Grain-free never tasted so decadent. Almond and date muffins utilize the flavor and texture of almond meal, the sweetness of dates and the protein of eggs to make a breakfast or snack you can feel good about!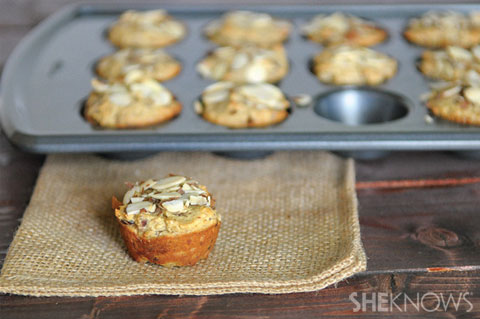 Date and almond muffins
Makes 12 mini muffins
Ingredients:
15 medjool dates, pitted
2 whole large eggs
1/2 teaspoon ground cinnamon
1 cup almond flour
Directions:
Preheat oven to 350 degrees F.
Spray a mini muffin pan with nonstick spray. Set aside.
In a food processor, add the dates and pulse to break them up a bit.
Add the eggs and cinnamon and process until the dates are very finely processed.
Add the almond flour and process to combine.
Spoon the batter evenly into the prepared muffin pan.
Top each muffin with a few of the slivered almonds.
Bake for 15-20 minutes until the almonds on top are golden brown.
Serve hot, cold or at room temperature.
More fabulous date recipes
Sweet and savory stuffed dates
Gorgonzola stuffed bacon wrapped dates
Bacon-wrapped cheese-stuffed dates