Loaded baked potato and chicken casserole
The best part about a casserole is that everything is combined into one tasty dish. This one combines roasted potatoes and perfectly cooked chicken. Your family will love this!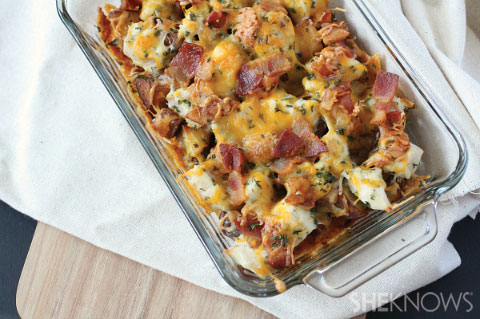 Looking for a flavor-packed casserole? This dish is full of crispy roasted potatoes and topped with spiced chicken, crispy bacon, sharp cheddar cheese and a sprinkle of green onions. You won't believe how easy this dish is to put together.
Loaded potato and chicken casserole
Yields contents of 9 x 13-inch dish
Ingredients:
8 medium-sized red skinned potatoes, cut into 1-inch cubes
1/4 cup olive oil
2 teaspoons kosher salt
1/2 teaspoon ground black pepper
1 teaspoon garlic powder
8 boneless skinless chicken tenders, cubed
Salt and pepper, to taste
1 pound bacon, cooked crispy and crumbled
2 cups sharp cheddar cheese
1/2 cup green onions, chopped
Directions: 
Preheat oven to 400 degrees F.
In a glass 9 x 13-inch pan, add chopped potatoes, olive oil, kosher salt, black pepper and garlic powder. Toss to evenly coat.
Bake potatoes for about 45-60 minutes until they are crispy on the outside and soft in the middle, but not falling apart. Make sure to stir your potatoes a few times while baking.
Remove potatoes from the oven and top with raw chicken. Sprinkle chicken with salt and pepper.
Cover chicken with crumbled bacon, cheese and green onions. Add back to the oven and bake for another 20 minutes until the chicken is fully cooked and the cheese is melted.
More potato recipes
Pulled pork sweet potato recipe
Chicken and vegetable topped potato recipe
French potato, onion and cheese gratin recipe