Cheesy pesto bread
This is one simple bread dish your whole family will love! Fresh pesto and cheesy mozzarella are stuffed into a crispy loaf of bread and baked until crispy and delicious.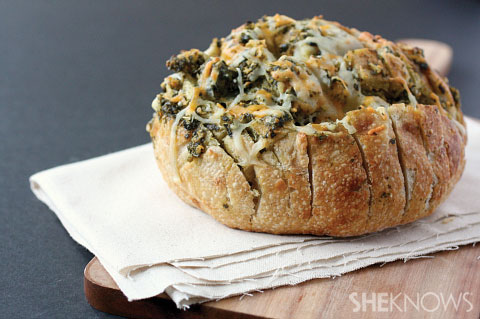 Pesto, bread and cheese. What is not to love? This is one amazing appetizer or side dish. Trust us, your whole family will be singing your praises and begging for seconds.
Cheesy pesto bread
Yields 1 loaf
Ingredients:
1 large round loaf of bread (we used sourdough)
1 cup basil pesto, store bought is fine
2 cups shredded Italian blend cheese
1/2 teaspoon garlic salt
Directions:
Preheat oven to 400 degrees F.
Cut bread in 2-inch slices, being careful to not cut through to the bottom. Cut in the opposite direction, again being careful to not cut through to the bottom. The bread will now look like a checkerboard.
Spread basil pesto equally in between each slice of bread. Stuff 1-1/2 cups shredded cheese in each slice.
Sprinkle the top with remaining shredded cheese and the garlic salt.
Add to a baking sheet and lightly tent the loaf with foil. Bake for at least 10 minutes and then remove foil and bake until browned.
More pesto recipes
Arugula pesto recipe
Pesto quesadilla recipe
Stuffed chicken with pesto recipe